Manage Orders, Buy Postage, and Print Shipping Labels | Guide
A shipping label is the result of many carefully-prepared details and well-coordinated actions. ShippingEasy's features help you complete the entire shipping process, including:
Once your Label Settings have been saved, you are ready to prepare them for shipping:
Load Orders: The products you are shipping and to whom

Ship From Address: Where you are shipping from

Carrier and Service: How the carrier will transport your package

Package Selection: The physical dimensions and weight of the package

Ship Date: When the package is turned over to the carrier

Confirmation Options: Notification of when the package is delivered

Insurance: Coverage for lost or damaged packages

Customs Forms: Information for customs officials for international shipments
Load Orders
ShippingEasy integrates with several popular ecommerce platforms, allowing you to sync your orders to ShippingEasy seamlessly. See which platforms are supported by ShippingEasy.
If there isn't an existing integration for your store platform, you can upload your orders via a CSV file or build your custom integration.
Ship From Address
Your address calculates postage costs and tells your carrier where to return undeliverable packages. Learn how to save your Ship From address.
If you have multiple warehouses, return addresses that differ from where the package will ship from, or many brands to differentiate, you can assign different Ship From addresses per store, per user account, or via automated Shipping Rules. Learn more about assigning Ship From addresses to your orders.
Carrier and Service
Most shippers have a few carriers and services that they use for the majority of their shipments. To save time when configuring your shipments, ShippingEasy's Previous Selections automatically apply your most-used carrier and service combinations to your orders.
Package Selection
Postage is largely calculated based on the weight and size of the shipment, so accurate data in these areas is imperative to cost-effective shipping. Both the protective packaging and product contents affect package dimensions.
Packaging options typically include using free carrier packaging or your custom boxes. If you consistently use custom packages, we recommend storing those package dimensions on ShippingEasy. These saved packages will be available when making carrier selections. Learn how to save custom packages.
ShippingEasy also provides tools to assign package weight more quickly and more accurately:
Ship Date
Carriers will often pick up packages before the end of your workday. Fortunately, ShippingEasy allows you to advance the Ship Date after a specific time. You'll find this setting valuable when you have labels to print, but you know the carrier will not receive the packages until the following day. Learn how to advance a Ship Date.
Confirmation Options
You may prefer to add delivery confirmation options in addition to shipment tracking, such as Signature or Adult Signature. These services ensure that your shipment is delivered to a person (not left at a doorstep) or that the recipient is age-verified (if you are shipping restricted items). See available confirmation options by carrier and service.
Insurance
Many carriers include a limited amount of shipment insurance. However, more valuable shipments may require additional protection against loss or damage. Insurance can be added manually or automatically by Insurance Defaults. Learn more about insurance options in ShippingEasy.
Customs Forms
International shipments, military shipments, and shipments to US territories require customs forms. ShippingEasy stores your International Shipment preferences to automatically fill out your customs forms. Learn more about printing customs forms.
Harmonized codes on customs forms are unique numbers that help customs officials identify the products in your package. If you ship various products, we recommend assigning Harmonized codes to your products in the ShippingEasy Product Catalog to help you process your international shipments faster. Learn more about Harmonized codes.
Label Settings: Configure the size of your labels and label notes

Purchase Postage: How you will pay for labels

Creating a Label: Steps to commit your postage selections
Label Settings
Shipping labels can be printed on either thermal or laser ink. Laser ink is standard for most printers, while thermal printing can be more cost-effective. See our cost comparison of laser vs. thermal printing.
Label sizes can be updated as frequently as your needs change depending on your printer type. You can even set the order in which your labels print. Learn how to save your label preferences.
You can customize USPS, UPS, and FedEx labels by adding label notes to your product and order information. Learn more about customizing labels.
Purchase Postage
Postage is the key ingredient to completing your shipping and makes a huge difference in how you price your products. Depending on which carrier services you select, you will either pay for your postage via a postage balance or after the carrier invoices you.
One Balance from ShippingEasy: We are dedicated to keeping shipping as low-cost as possible for our customers so that you can extend those savings to your customers. We created One Balance from ShippingEasy to offer USPS and UPS postage discounted rates.

Once your One Balance account is set up and you have funded your balance, this balance will be used to purchase USPS and UPS from ShippingEasy labels.

Learn more about:

UPS and FedEx: ShippingEasy notifies these carriers after purchasing labels. You will then receive an invoice and pay the carrier directly.

Third-Party Billing: Some shippers find that they need to bill postage to a third-party account. In this case, you can save the third-party accounts for quick access on the READY TO SHIP page.
Creating a Label
How you create your labels can be as unique as your shipping process. ShippingEasy can accommodate all types of workflows.
Instant Rate: Prepare your orders and browse rates on the ORDERS page.

Buy Labels: Purchase individual labels on the ORDERS page.

Group as Batch: Group orders that require the same carrier selections and purchase multiple labels simultaneously in a batch.
Once you have created your label in ShippingEasy, the label can be opened from the app as a PDF or sent directly to your printer. You can also print packing slips from the ORDERS page with your labels.
Print Labels
Print from PDF: Printing from PDF is available for free to all ShippingEasy subscribers. It is a great choice if you prefer to review labels before printing them or if you need to save them to a file to email to an offsite warehouse. Learn how to print documents from a PDF.

Print Direct to Printer: ConnectEasy is ShippingEasy's printing software exclusive to our customers. This program eliminates the extra steps in the printing process, sending your label information directly to your printer without having to open a PDF file in between. It also lets you skip the READY TO PRINT page when utilizing the Buy Labels button. Learn more about ConnectEasy.
Learn more about printing shipping labels.
Print Packing Slips
From the ORDERS page: When purchasing labels with the Buy Labels button, check the Print Packing Slips box to print packing slips with your labels.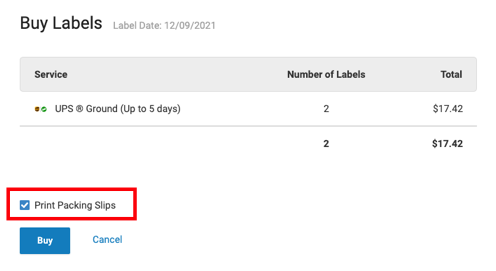 If you don't see the Print Packing Slips checkbox, check your Label settings to ensure you have an output label format that includes a packing slip.