Instant Rate is the quickest way to compare rates and buy a shipping label, right from your ORDERS page. Quickly switch between different carrier/service combinations and, with a single click, purchase a shipping label.
Click on the Buy Label button next to any order to purchase a shipping label.

If the order is missing a requirement necessary for a quote, such as the weight, instead of a rate to the left of the order, you will see a "Rate Alert" message.

Hover above the button to display what needs to be corrected in the order to retrieve a rate quote.

You will need to enter a valid weight for any order that does not have one. Click Fix and to enter the order's weight.

If the recipient's address is invalid, you will need to correct the address before a rate can be calculated. Click Fix and edit the address or approve the suggested address.

If there is any other error or an error message from the carrier, correct the error before shipping.

If the order has multiple recipients, you will need to split the order before it can be shipped. Learn how to manage orders with multiple recipients.
If your order does not have a weight and you do not have shipping rules or a default saved selection, you must select a Shipping Preset or service then update your package weight.
If ShippingEasy encountered an error and could not populate a rate quote, no rate will be displayed and you must select an option to get a rate quote.
Postage Balance and Rate Quotes
Automatic postage refills: your USPS postage balance works like a debit card. You add postage to your account. Then, buy labels with the postage you have already paid for. Automatic postage refills mean you are never interrupted to top off your postage balance. Learn how to set up an auto-refill postage balance.

Add Postage Alert: If you have not set up automatic postage refills and your postage balance is below the amount needed to ship your package, you will be prompted to purchase more or sign up for Auto Refills.
Yes. Use the Rate Quote filter to view only those orders that have a rate quote. Click the More Filters link at the top of the page. Then, select the appropriate Rate Quote option.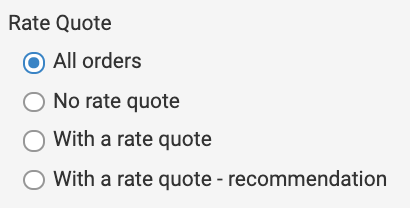 This filter will let you filter and view orders with:
| Filter Name | What orders will be displayed? |
| --- | --- |
| No rate quote | Any orders without a rate quote |
| With a rate quote | Any order with a rate quote |
| With a rate quote - recommendation | All orders with a rate quote because of a Recommendation |
ShippingEasy only recommends a carrier and service if you have not assigned a carrier and service. A carrier and service can be assigned in several ways, most of which is done automatically. The options, from highest to lowest priority:
Selected manually

Assigned by a Shipping Rule

Copied from an identical previous order

Specified as the default shipping preset for domestic orders

Recommended by ShippingEasy
Instant Rate will apply Sub Accounts similarly to your rules.
If your order has not been assigned to a Sub Account via a rule, your main postage accounts will be used.
If the order has been assigned to a Sub Account, then the Sub Account's postage accounts will be used to purchase postage. Learn more about Sub Accounts.