ShippingEasy Terms of Service
Latest Version Posted: September 29, 2022
ShippingEasy provides a simple cloud-based multi-carrier shipping solution for online sellers which integrates with leading marketplaces, shopping carts, and eCommerce platforms to allow order fulfillment and tracking data to populate in real-time across all systems. Users can print shipping labels and branded packing slips without having to export data or cut-and-paste information into other applications. Tracking numbers and delivery status are auto-populated in both ShippingEasy and back to the merchant's stores enabling easy buyer communication.
PLEASE READ THESE TERMS OF SERVICE CAREFULLY BEFORE USING THIS SITE AND THE SERVICE
IF YOU DO NOT AGREE TO THESE TERMS, DO NOT USE THIS WEBSITE AND DO NOT SIGN UP FOR A SHIPPINGEASY ACCOUNT.
This website, including all content made available through the website, ("Site") is owned and operated by ShippingEasy, Inc. (collectively hereinafter referred to as "ShippingEasy"), a Texas corporation and its affiliates, including its parent company Stamps.com Inc. and the services and products ("Services") provided to you are subject to the following notices, terms, and conditions. Unless otherwise agreed in writing with ShippingEasy, your agreement with ShippingEasy will always include, at a minimum, the terms and conditions set out in this document. These terms form a legally binding agreement, along with the ShippingEasy Privacy Policy, found by clicking here, between you and ShippingEasy in relation to your use of ShippingEasy's Services. It is important that you take the time to read them carefully. ShippingEasy is firmly committed to protecting the privacy of your personal information and the personal information of your customers. By using the service, you acknowledge and agree that ShippingEasy's collection, usage, and disclosure of this personal information is governed by our Privacy Policy.
Collectively the ShippingEasy Terms of Service and the ShippingEasy Privacy Policy are a legal agreement referred to below as the "Terms." ShippingEasy may, from time to time, modify, amend, or supplement these Terms, modifications, amendments, or supplements to these Terms shall automatically be effective seven (7) days after ShippingEasy has posted the modifications, as such, we recommend that you review the Site often to keep abreast of any changes. If you do not agree to be bound by (or cannot comply with) these Terms, including the Terms as modified, you agree that your sole remedy is to cease using the Services by canceling your account. Your continued use of the Services constitutes your agreement to be bound by the Terms, including the amended Terms.
Both you and ShippingEasy agree, with the limited exceptions noted below and as further provided below, to resolve all disputes between you and ShippingEasy through BINDING ARBITRATION. ARBITRATION MEANS THAT YOU AND THE SHIPPINGEASY ARE EACH WAIVING THE RIGHT TO A JURY TRIAL AND TO PARTICIPATE IN A CLASS ACTION.
1. SERVICE PRICING
ShippingEasy offers multiple types of service plans — including, without limitation, monthly service plans. Your monthly service fee, if any, will be calculated based on the service plan presented to you and agreed to by you during service registration, or any subsequent plan changes made by you during your ongoing usage of the service. In addition, you are responsible for all variable and transactional costs of using the service (including but not limited to: postage, fees for carrier services, package insurance, items purchased in the online store, direct and indirect costs of third-party service providers and carriers, transaction fees charged directly by ShippingEasy for shipping or other services, or other special services selected, such as on-demand consulting and technical support) in addition to your applicable service fee, if any. The total shipping fees quoted may include third party carrier fees and fees charged directly by ShippingEasy, which will not be separately delineated from the overall charge. Rates for services charged will be based on the rates that are available for your account and may be updated by ShippingEasy at its sole discretion. ShippingEasy may, at its discretion, offer substitute services for any selected services, with substantially the same or improved service levels.
Your recurring service fee, if any, will be calculated and billed based on the date you register and the terms of your offer. Each monthly billing cycle ends each month after you register; for example, if you register on March 8, and you are provided a free trial offer, the first billing cycle will begin April 8, and the second billing cycle will begin on May 8. ShippingEasy bills in advance (i.e., at the beginning of the applicable billing cycle), if you cancel in the middle of a billing cycle you will not be refunded for your service fees and your account will remain available for usage for the full month of cancellation.
If you register for a free offer but wish to avoid incurring the monthly service fee, make sure to cancel your account before the free period ends. To cancel, call ShippingEasy customer support at 855-202-2275, Monday through Friday, 7 AM to 7 PM Central Time or do so online.
Downgrading your plan: You can downgrade your ShippingEasy plan at any time. Monthly services are billed in advance, the change in plan type will go into effect on the last day of your current billing period. ShippingEasy does not auto-downgrade accounts based on shifts in volume.
2. ACCOUNT SERVICES AND DURATION
ShippingEasy reserves the right to cancel your account for lack of use, lack of payment, or breach of these Terms. As a general matter, all ShippingEasy user accounts are maintained perpetually unless and until cancelled by the user. Following any account cancelation, ShippingEasy may maintain certain account settings and information for a period of time in the event of account re-activation. The period of time ShippingEasy maintains account information shall be in the sole discretion of ShippingEasy.
Accounts are automatically renewed for the same time period you originally signed up for unless otherwise cancelled.
3. ACCOUNT CANCELLATION/TERMINATION
You may terminate or close your account at any time by the methods set forth in the "Service Pricing" section above. However, depending on the service plan you selected, certain restrictions or fees may apply, as detailed below. You will be asked to verify your account information and confirm your intent to cancel your account.
Monthly Service Plan: You are free to end your monthly service plan at any time.
If you terminate your monthly service plan during the free trial period you will not be charged any service fee.
If you terminate your monthly service plan after the free trial period, you must submit a refund request for the current month's billing to ShippingEasy within one business day of your bill date in order to receive a full refund of the charge. Any cancelation requests for the current month's billing received later than one business day after your bill date will receive a prorated refund based on the number of days remaining in the billing month. Any refund requests for a prior month/completed billing period are at ShippingEasy's sole discretion.
Annual Service Plan: Annual service plans are NON-REFUNDABLE. If you terminate your annual plan during its term, you will not receive a prorated refund.
Refunds for Add-On Services: In the event, you remove an add-on service (i.e. Inventory Management or Customer Marketing) from your ShippingEasy service plan, you must submit a refund request for the current month's billing to ShippingEasy within one business day of your bill date in order to receive a full refund of the charge.
4. FREE TRIAL OFFER TERMS
If you select to sign up for ShippingEasy's "free trial", then you will not be charged a service fee for the period of the free trial offer; but you will be responsible for postage, fees for private carriers, package insurance, or other special services selected. If you remain a customer beyond the free trial period, your account will automatically be converted to a monthly service account that does charge the applicable service fees.
5. METHOD OF PAYMENT
ShippingEasy currently accepts Visa, MasterCard, American Express, and Discover. Certain users will be approved to set up an automated debit from your bank savings or checking account. Acceptable payment methods are subject to change at any time. You must include correct information (e.g., the address and phone number the payment credit card issuer has on file for you) when enrolling. Incorrect information may cause delays in establishing service. All information received from you, including credit card and/or bank account information, will be treated in accordance with ShippingEasy's Privacy Policy. Please note that ShippingEasy may receive updated information regarding your payment card account, debit card account, or bank account from your financial institution and by accepting these Terms you hereby consent to such updating. For example, ShippingEasy may receive an updated card expiration date or account number information. During account registration, ShippingEasy may verify that your payment card is valid for the service fees associated with your service plan.
Prices are set and changed by us without notice to you by publishing them on our Site.
By providing your credit card details and agreeing to these Terms you authorize us to charge your credit card with any amounts due to us under these Terms. Without limiting this, if you incorrectly describe the dimensions and/or weight of your package, we may charge you any additional amounts we incur from partners as a result, plus a $10 administration fee.
We will use reasonable efforts to keep any payment information we have about you secure and ensure that our employees or agents who have access to this information do not make any unauthorized use, modification, reproduction, or disclosure of it. We may engage a third party to provide a secure payment transaction facility that allows you to pay online and, in this case, we will not receive your payment information.
Debit Notice Waiver: If you elect to pay ShippingEasy via a debit card, you hereby waive your rights under 12 C.F.R. 205.10(d) to receive ten days' advance notice of the amount and date of all varying electronic fund transfers, so long as the transfer falls inside the range of $0.01 and the sum of any amounts you authorize for insurance, hidden postage labels, reset fees or other non-recurring charges.
Billing for Fees: ShippingEasy's service fee and any other applicable fees due, including fees for postage or shipping (if applicable), will be automatically charged to the account holder's credit card, debited from the account holder's debit card, or collected via direct account withdrawal from the account holder's bank account at the end of each billing cycle (as directed by the user), in the case of service and other fees alone.
The billing entity for part or all of the services provided by ShippingEasy may be that of a subsidiary, affiliate, or partner organization of ShippingEasy and you hereby consent to any such billing, including changes to the billing entity from time to time.
6. API TERMS
ShippingEasy may make an API (Application Program Interface) available to Customers in ShippingEasy's sole discretion. Customers may access their ShippingEasy account data via an API. Any use of the API, including use of the API through a third-party product that accesses ShippingEasy, is bound by these Terms plus the following specific terms:
we will not be liable for any direct, indirect, incidental, special, consequential, or exemplary damages, including but not limited to, damages for loss of profits, goodwill, use, data, or other intangible losses (even if ShippingEasy has been advised of the possibility of such damages), resulting from your use of the API or third-party products that access data via the API;
abuse or excessively frequent requests to ShippingEasy via the API may result in the temporary or permanent suspension of your account's access to the API. We will, in our sole discretion, determine abuse or excessive usage of the API and we will make a reasonable attempt via email to warn you (or that account holder if that is not you) prior to suspension.
we reserve the right at any time to modify or discontinue, temporarily or permanently, your access to the API (or any part thereof) with or without notice.
7. CONTENT COPYRIGHT
You acknowledge that (i) content on the Site and content available through the Services is protected by copyrights, trademarks, and other intellectual and proprietary rights ("Rights"); (ii) these Rights are valid and protected in all media and technologies existing now or later developed; and (iii) except as explicitly provided otherwise, the Terms and applicable copyright, trademark, and other laws govern your use of such content. Any other use, including but not limited to the reverse engineering, decompiling, altering, modifying, or disassembling of our source code or the reproduction, modification, distribution, transmission, republication, display, or performance, of the content on this Site is strictly prohibited.
8. PATENTS
Covered by and/or for use with U.S. Patents 7,216,110; 7,236,956; 7,236,970; 7,359,887; 7,458,612; 7,490,065; 7,774,285; 7,818,267; 7,831,524; 7,844,553; 7,882,094; 8,027,926; 8,041,644; 8,103,647; 8,240,579; 8,374,970; 8,392,391; 8,626,673; 8,626,674; 8,751,409; 8,762,290; 8,768,857; and 8,954,355.
9. TRADEMARKS
ShippingEasy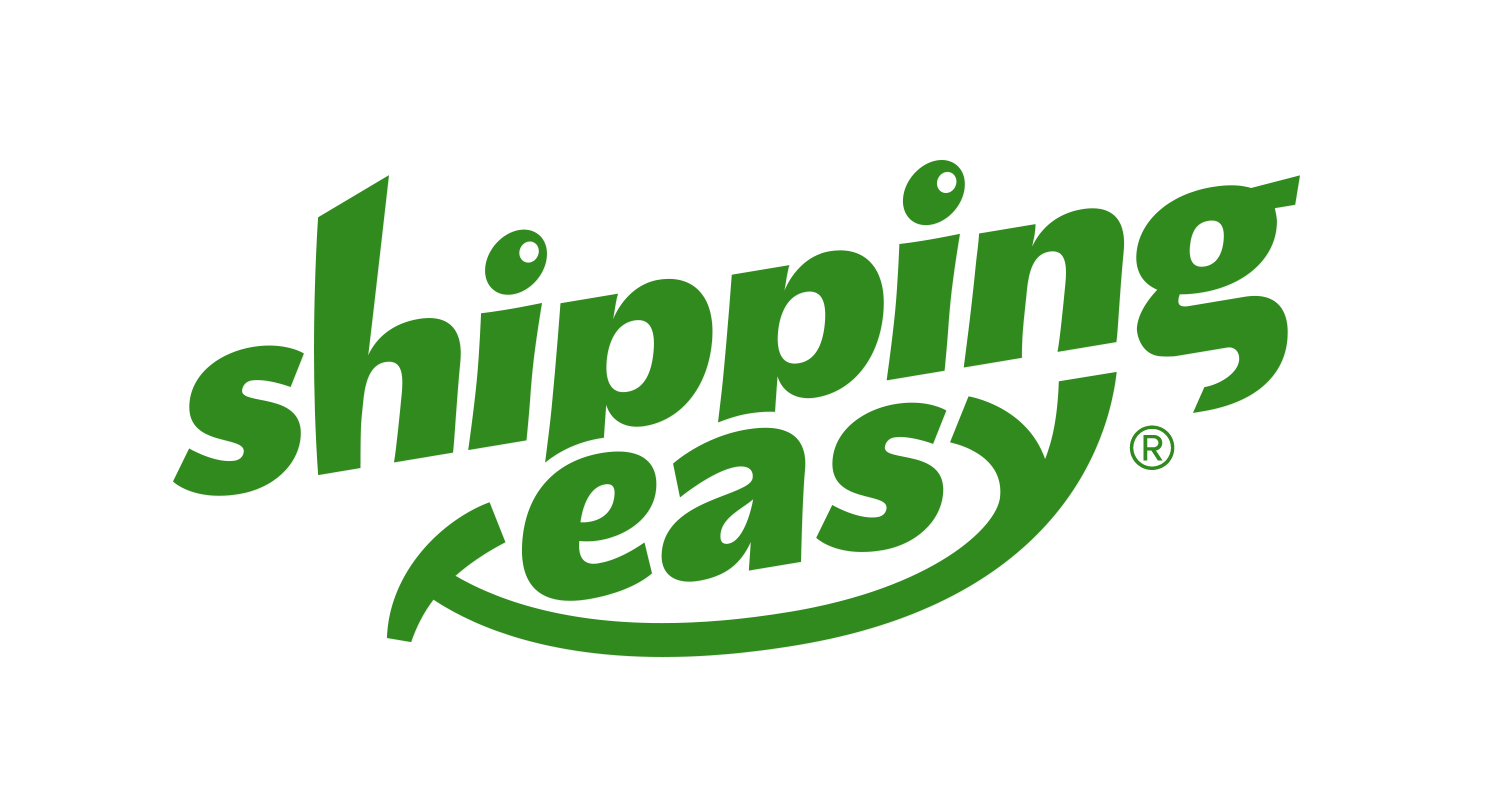 and associated brand names and domain names are trademarks of ShippingEasy in the United States and/or other countries. ShippingEasy trademarks and trade dress may not be used in connection with any product or service that is likely to cause confusion among your customers, or in any manner can be interpreted as business disparagement. All marks not owned by ShippingEasy are the property of their respective owners. You may not use, and nothing contained on the Site or in these Terms grants, by implication, waiver, estoppel or otherwise, any right to use, any trademark displayed on the Site without the written permission of ShippingEasy or the respective owner of such trademark, service mark or logo.
10. USE OF SITE
This Site, any portion of this Site, and any materials made available by ShippingEasy through the Site may not be reproduced, duplicated, copied, sold, resold, or otherwise exploited for any commercial purpose that is not expressly permitted by ShippingEasy. ShippingEasy reserves the right to refuse service, terminate accounts, and/or cancel orders in its discretion, including, without limitation, if ShippingEasy believes that a user's conduct violates applicable law or is harmful to the interests of ShippingEasy. Any use of content or descriptions; any derivative use of this Site or its contents; and any use of data mining, robots, or similar data gathering and extraction tools are strictly prohibited. In no event shall the user frame any portion of the Site or any content contained therein. By using this Site, you agree that you will comply with all applicable laws and regulations, including U.S. export and re-export control laws and regulations.
Unless your access is revoked by us in writing, we grant you a non-exclusive license to access and use the Site in the ordinary course of browsing the Site and ordering our Services (including any reasonable incidental printing of information that occurs as part of that use) and in accordance with these Terms.
The Site is provided to you on an "as is", "as available" basis, without any express or implied warranty by us. We cannot and do not warrant or represent that:
the Site or the servers that make the Site available over the Internet are secure and free from errors or omissions, technical inaccuracies, errors, programming bugs, viruses, harmful content or components, interference (including malfunction of equipment or software, Internet access difficulties, or delay or failure of transmission) or duplicate data;
the functions contained in any software contained on the Site will operate uninterrupted or are error-free, or
the Site or our Services will operate on a continuous and uninterrupted basis. The Site may be unavailable from time to time (including for maintenance purposes) and we may change our available Services now and then. The availability of content on the Site is also subject to the limitations of the Internet including re-buffering, loss of connection, and dropouts.
While care has been taken when compiling the Site, it may use information from a range of sources, including third-party advertisements. We can't screen all of this material before it appears on the Site and are not responsible for and do not necessarily endorse its content.
11. COPYRIGHT INFRINGEMENT
ShippingEasy respects the intellectual property of others. Copyright infringement will not be tolerated. If you believe that your work has been copied in a way that constitutes copyright infringement, please alert us at help@ShippingEasy.com.
12. SOFTWARE AVAILABLE ON THE SITE
Software that is made available from the Site ("Software") is the copyrighted work of ShippingEasy and/or its suppliers. Your use of the Software is governed by the Terms. You may not use any Software or the Site unless you first agree to the Terms, after which ShippingEasy hereby grants to you, the user, a personal, nontransferable license to access the Software for viewing and otherwise using the Site in accordance with these Terms, and for no other purpose, provided that you keep intact all copyright and other proprietary notices contained in the Software. All Software is owned by ShippingEasy and/or its suppliers and is protected by copyright laws and international treaty provisions. Any reproduction or redistribution of the Software is expressly prohibited by law and may result in severe civil and criminal penalties. Violators will be prosecuted to the maximum extent possible. WITHOUT LIMITING THE FOREGOING, COPYING OR REPRODUCTION OF THE SOFTWARE TO ANY SERVER OR OTHER LOCATION FOR REPRODUCTION OR REDISTRIBUTION IS EXPRESSLY PROHIBITED. You acknowledge that the Software, and any accompanying documentation and/or technical information, is subject to applicable export control laws and regulations of the U.S. You agree not to export or re-export the Software, directly or indirectly, to any countries that are subject to U.S. export restrictions.
Software usage is subject to compliance with the Terms and is provided for no additional consideration on a non-transferable, limited, revocable, royalty-free basis.
13. LIMITATION OF LIABILITY
IN THE EVENT SHIPPINGEASY IS FOUND TO BE RESPONSIBLE TO YOU FOR DAMAGES IN ANY WAY RELATING TO THIS SITE, THE SERVICES, OR THE SOFTWARE, YOU AGREE THAT SHIPPINGEASY'S LIABILITY TO YOU WILL NOT EXCEED YOUR PREVIOUS MONTH'S SERVICE PLAN COSTS, WHEN APPLICABLE, FOR SERVICES DURING THE PERIOD IN WHICH YOU INCUR SUCH DAMAGES AND NOTWITHSTANDING THE FAILURE OF ESSENTIAL PURPOSE OF ANY REMEDY. SHIPPINGEASY IS NOT LIABLE FOR ANY INCIDENTAL, SPECIAL OR CONSEQUENTIAL DAMAGES (SUCH AS LOST PROFITS OR LOST BUSINESS OPPORTUNITIES), PUNITIVE OR EXEMPLARY DAMAGES, THE COST OF ALTERNATIVE SERVICES, OR ATTORNEYS' FEES AND NOTWITHSTANDING THE FAILURE OF ESSENTIAL PURPOSE OF ANY REMEDY.
You should note that, in some circumstances, the liability of a carrier is limited under the Convention of the Unification of Certain Rules Relating to International Carriage by Air (Warsaw, 12 October 1929), Convention of the Unification of Certain Rules Relating to International Carriage by Air (Montreal, 28 May 1999) and the Convention on the Contract for International Carriage of Goods by Road (Geneva, 19 May 1956) or similar international conventions.
14. DISCLAIMER
THIS SITE, SERVICES, AND SOFTWARE ARE PROVIDED BY SHIPPINGEASY ON AN "AS IS" BASIS. SHIPPINGEASY MAKES NO REPRESENTATIONS OR WARRANTIES OF ANY KIND, EXPRESS OR IMPLIED, AS TO THE OPERATION OF THE SITE OR SOFTWARE, OR THE INFORMATION, CONTENT, MATERIALS, OR PRODUCTS INCLUDED ON THIS SITE AND THE SOFTWARE. TO THE FULLEST EXTENT PERMISSIBLE BY APPLICABLE LAW, SHIPPINGEASY DISCLAIMS ALL WARRANTIES, EXPRESS OR IMPLIED, INCLUDING, BUT NOT LIMITED TO, IMPLIED WARRANTIES OF INFRINGEMENT, MERCHANTABILITY, AND FITNESS FOR A PARTICULAR PURPOSE. SHIPPINGEASY WILL NOT BE LIABLE FOR ANY DAMAGES OF ANY KIND ARISING FROM THE USE OF THIS SITE, THE SERVICES, OR THE SOFTWARE, INCLUDING, BUT NOT LIMITED TO DIRECT, INDIRECT, INCIDENTAL, PUNITIVE, AND CONSEQUENTIAL DAMAGES. SHIPPINGEASY DOES NOT PROMISE OR GUARANTY UNINTERRUPTED OR ERROR-FREE SERVICE.
15. LINKS TO THIRD PARTY WEBSITES
ShippingEasy's site and affiliated websites may contain links to third-party websites ("Linked Websites"). The Linked Websites are not under the control of ShippingEasy and ShippingEasy is not responsible for the contents of any Linked Websites, including without limitation any link contained in a Linked Websites, or any changes or updates to a Linked Websites. You should contact the site administrator or webmaster for those Linked Websites if you have any concerns regarding such links or the content located on such Linked Websites. You are solely responsible for following the terms and conditions of all Linked Websites, including carriers and other third-party providers of services.
16. DISPUTE RESOLUTION; AGREEMENT TO ARBITRATION; AND CLASS WAIVER
You and ShippingEasy agree that, except as provided below regarding small claims court proceedings, any dispute, claim or controversy arising out of or relating in any way to ShippingEasy services, Site, your account(s), offers, user interfaces, our Privacy Policy or our privacy practices generally, these ShippingEasy Terms, and this "Agreement to Arbitrate," shall be determined by binding arbitration. Arbitration is more informal than a lawsuit in court. Arbitration uses a neutral arbitrator instead of a judge or jury, allows for more limited discovery than in court, and is subject to very limited review by courts. YOU AGREE THAT, BY AGREEING TO THESE TERMS, THE U.S. FEDERAL ARBITRATION ACT GOVERNS THE INTERPRETATION AND ENFORCEMENT OF THIS PROVISION, AND THAT YOU AND SHIPPINGEASY ARE EACH WAIVING THE RIGHT TO A TRIAL BY JURY OR TO PARTICIPATE IN A CLASS ACTION. This arbitration provision shall survive termination of these Terms and the termination of your ShippingEasy account(s).
Pre-Filing Mediation: In the event of a dispute, prior to initiating an arbitration, the party asserting the claim must first send to the other, by certified mail with return receipt requested (or any successor service), a written Notice of claim ("Notice"). If you are the claimant, the Notice to ShippingEasy must be addressed to ShippingEasy, Inc. / Dispute Resolution, 4301 Bull Creek Rd, Austin TX 78731, with a cc to Legal Department - Dispute Resolution, ShippingEasy, 1990 E Grand Ave., El Segundo, CA 90245. If ShippingEasy is the claimant, the Notice must be addressed to the address used for your account. The Notice must (a) describe the nature and basis of the claim or dispute, and (b) set forth the specific relief sought. Following receipt of the Notice, each party agrees to negotiate with the other in good faith about the claim. If the claim is not resolved to the satisfaction of the claimant within sixty (60) days after Notice is provided, the claimant may pursue the claim in arbitration or file a claim in small claims court.
17. ADDITIONAL ARBITRATION PROVISIONS
Settlement Offers: During the arbitration, the amount of any settlement offer made by ShippingEasy or you shall not be disclosed to the arbitrator.
Initiating A Claim: The form required to initiate an arbitration can be printed or downloaded from www.adr.org. Alternatively, you can contact the arbitration administrator by calling 800-778-7879.
Fees for Initiating Arbitration: If you are required to pay a filing fee to initiate arbitration after ShippingEasy receives notice of the initiation of arbitration, it will promptly reimburse you for your payment of the filing fee at the address we have for you on file (or the address provided in the Notice), unless your claim is for greater than US $10,000.
Applicable Rules; Administrator: The arbitration will be governed by the Commercial Arbitration Rules and the Supplementary Procedures for Consumer-Related Disputes (collectively, "AAA Rules") of the American Arbitration Association ("AAA"), as modified by these Terms, and will be administered by the AAA. The AAA Rules and Forms are available online at www.adr.org, or by calling the AAA at 1-800-778-7879. The arbitrator is bound by the requirements of this section of the Terms. All issues are for the arbitrator to decide, including issues relating to the scope and enforceability of this Agreement to Arbitrate.
Location of Hearing: Unless ShippingEasy and you agree otherwise, any arbitration hearings will take place in the county (or parish) of your billing address. (If you reside outside of the United States, any arbitration hearings will take place in your country of residence at a location reasonably convenient to you, but will remain subject to the AAA Rules including the AAA rules regarding the selection of an arbitrator). If your claim is for USD $10,000 or less, we agree that you may choose whether the arbitration will be conducted solely on the basis of documents submitted to the arbitrator, through a telephonic hearing, or by an in-person hearing as established by the AAA Rules. If your claim exceeds USD $10,000, the right to a hearing will be determined by the AAA Rules. Regardless of the manner in which the arbitration is conducted, the arbitrator shall issue a written decision sufficient to explain the essential findings and conclusions on which the award is based.
Award Enhancement: If the arbitrator issues you an award that is greater than the value of ShippingEasy's last written settlement offer made before an arbitrator was selected (or if ShippingEasy did not make a settlement offer before an arbitrator was selected), then ShippingEasy will pay you the amount of the award or USD $1,000, whichever is greater. Except as expressly set forth herein, the payment of all filing, administration, and arbitrator fees will be governed by the AAA Rules.
Class Waiver: YOU AND SHIPPINGEASY AGREE THAT EACH MAY BRING CLAIMS AGAINST THE OTHER ONLY IN AN INDIVIDUAL CAPACITY AND NOT AS A PLAINTIFF OR CLASS MEMBER IN ANY PURPORTED CLASS OR REPRESENTATIVE PROCEEDING. Further, unless both you and ShippingEasy agree otherwise, the arbitrator may not consolidate the claims of more than one party, and may not otherwise preside over any form of a representative or class proceeding. If this specific provision is found to be unenforceable as applied to any claim asserted by you, then the entirety of the arbitration provision set forth in this section shall be null and void.
Injunctive Relief Limitation: The arbitrator may award declaratory or injunctive relief only in favor of the individual party seeking relief and only to the extent necessary to provide relief warranted by that party's individual claim.
Small Claims Procedure Alternative: Notwithstanding the foregoing binding arbitration procedure, either party may bring an individual action in small claims court (provided the claim otherwise qualifies for such program) as an alternative to proceeding with arbitration.
18. NO UNLAWFUL OR PROHIBITED USE
As a condition of your use of this Site, you warrant to ShippingEasy that you will not use the Site for any purpose that is unlawful or prohibited by these Terms, or the laws and regulations of the jurisdiction in which you are located or to which your envelope or parcel was sent. You may not use the Site in any manner that could damage, disable, overburden, or impair the Site. You may not obtain or attempt to obtain any materials or information through any means not intentionally made available or provided through the Site. ShippingEasy reserves the right at all times to disclose any information as necessary to satisfy any applicable law, regulation, legal process or governmental request, or to edit, refuse to post or to remove any information or materials, in whole or in part, at ShippingEasy's sole discretion.
19. INDEMNIFICATION
You agree to defend, indemnify and hold harmless ShippingEasy, its officers, directors, employees, and agents, from and against any and all claims, damages, obligations, losses, liabilities, costs or debt, and expenses (including but not limited to attorney's and administrative fees) arising from (i) your use of and access to the Site, Services, and Software; (ii) your violation of any term of these Terms; (iii) your violation of any third party right, including without limitation any copyright, property, or privacy right; or (iv) any claim that one of your Submissions caused damage to a third party. This defense and indemnification obligation will survive these Terms and your use of the Site.
20. MATERIALS PROVIDED TO THE SITE
Users of the Site may post comments, reviews, and other content and submit suggestions, ideas, or other information, provided the content does not contain any unlawful, harmful, threatening, abusive, harassing, defamatory, vulgar, obscene, or hateful content or content which is racially, ethnically or otherwise objectionable, or content which infringes upon the rights of any third party. You agree not to impersonate any person and/or other entity or communicate under a false name or a name that you are not entitled or authorized to use. ShippingEasy has the right (but not the obligation) to remove, prohibit, edit or discontinue any content on the Site, including content that has been posted by users.
ShippingEasy does not claim ownership of the materials you provide to ShippingEasy (including feedback and suggestions) or post, upload, input or submit to ShippingEasy or its associated services (collectively "Submissions"). However, by posting, uploading, inputting, providing, or submitting your Submission you are granting ShippingEasy, its affiliated companies, and necessary sublicensees a non-exclusive, worldwide, perpetual, irrevocable, royalty-free, sublicensable (through multiple tiers) right to use your Submission in connection with the operation of their businesses including, without limitation, the rights to copy, distribute, transmit, publicly display, publicly perform, reproduce, edit, translate, reformat, prepare derivative works of, and otherwise exploit your Submission; and to publish your name in connection with your Submission. No compensation will be paid with respect to the use of your Submission, as provided herein. ShippingEasy is under no obligation to post or use any Submission you may provide and may remove any Submission at any time at ShippingEasy's sole discretion. By posting, uploading, inputting, providing, or submitting your Submission, you warrant and represent that you own or otherwise control all of the rights to your Submission as described in this section including, without limitation, all the rights necessary for you to provide, post, upload, input or submit the Submissions and that your Submission is not based on, or derived from, the proprietary information or items of a third party.
21. GOVERNING LAW
The Services under these Terms are provided by ShippingEasy's offices in the State of Texas. The Services and Software can be accessed from any of the 50 states in the United States and from other countries of the world. Except as set forth in Sections 16 and 17 herein which shall be controlling over the terms of any dispute, the laws of the State of Texas (or U.S. federal law, if applicable), without regard to conflicts of law provisions, will apply to all matters arising out of or in connection with the Site, the Services, and the Software.
22. U.S. GOVERNMENT USERS RESTRICTED RIGHTS
Use, duplication, or disclosure by the Government is subject to restrictions as set forth in applicable laws and regulations. Use of the Site, Services and/or Software by the Government constitutes acknowledgment of ShippingEasy's proprietary rights in them. The Site and Software may contain other proprietary notices and copyright information which should be observed.
23. PROHIBITED ACTIVITIES
You shall not transmit to ShippingEasy or upload to this Site or the Software any Harmful Code or use or misappropriate the data on this Site for your own commercial gain. "Harmful Code" shall mean any software (sometimes referred to as "viruses," "worms," "trojan horses," "time bombs," "time locks," "drop dead devices," "traps," "access codes," "cancelbots" or "trap door devices") that: (a) is intentionally designed to damage, disrupt, disable, harm, impair, interfere with, intercept, expropriate or otherwise impede in any manner, any data, storage media, program, system, equipment or communication, based on any event, including for example but not limited to (i) exceeding the number of copies, (ii) exceeding the number of users, (iii) passage of a period of time, (iv) advancement to a particular date or other numerals, or (v) use of a certain feature; or (b) would enable an unauthorized person to cause such result, or (c) would enable an unauthorized person to access another person's information without such other person's knowledge and permission.
You may not use your password or API keys for any unauthorized purpose. You may not use the Site, Services, or Software for activities that:
violate any law, statute, ordinance or regulation relating to sales of (a) narcotics, steroids, certain controlled substances or other products that present a risk to consumer safety, (b) drug paraphernalia, (c) items that encourage, promote, facilitate or instruct others to engage in illegal activity, (d) items that promote hate, violence, racial intolerance, or the financial exploitation of a crime, (e) items that are considered obscene, (f) items that infringe or violate any copyright, trademark, right of publicity or privacy or any other proprietary right under the laws of any jurisdiction, (g) certain sexually oriented materials or services, or (h) ammunition, firearms, or certain firearm parts or accessories, or (i) certain weapons or knives regulated under applicable law;
relate to transactions that (a) show the personal information of third parties in violation of applicable law, (b) support pyramid or Ponzi schemes, matrix programs, other "get rich quick" schemes or certain multi-level marketing programs, (c) are associated with purchases of real property, annuities or lottery contracts, lay-away systems, off-shore banking or transactions to finance or refinance debts funded by a credit card, (d) are for the sale of certain items before the seller has control or possession of the item, (e) is by payment processors to collect payments on behalf of merchants, (f), are associated with the following Money Service Business activities: the sale of traveler's checks or money orders, currency exchanges or check cashing, or (g) provide certain credit repair or debt settlement services;
involve the sales of products or services identified by government agencies to have a high likelihood of being fraudulent;
violate applicable laws or industry regulations regarding the sale of (a) tobacco products, or (b) prescription drugs and devices;
involve gambling, gaming and/or any other activity with an entry fee and a prize, including, but not limited to casino games, sports betting, horse or greyhound racing, lottery tickets, other ventures that facilitate gambling, games of skill (whether or not it is legally defined as a lottery) and sweepstakes unless the operator has obtained prior approval and the operator and its customers are located exclusively in jurisdictions where such activities are permitted by law.
24. TERMS REGARDING 3RD PARTY SHIPPING INSURANCE
ShippingEasy provides shipping insurance through a third party company. You agree that ShippingEasy is in no way responsible for any loss, liability, claim, or demand that relates to insurance.
You are solely responsible for ensuring that listings you add insurance to are covered under the applicable coverage, terms, conditions, and exclusions. All rules, terms, and policies related to shipping insurance offered through the Site shall be governed by the Insurance terms and conditions found by clicking here.
25. TERMS RELATED TO EUROPEAN UNION DATA SUBJECTS
Additionally, if: (a) you are established in the European Union ("EU"); (b) you provide goods or services to customers in the EU; or (c) you are otherwise subject to the requirements of the EU General Data Protection Regulation ("GDPR"), ShippingEasy's collection, use, and storage of the Personal Data of any EU Data Subject are also subject to the following rules. All defined terms, not otherwise defined herewith shall be interpreted in accordance with the GDPR.
Before you provide Personal Data of your customers or that of other individuals to ShippingEasy in order for ShippingEasy to provide services, you must be in compliance with the GDPR.
You consent to ShippingEasy Processing, and/or as a joint Data Controller, with you, of controlling the Personal Data of you and your customers, for the purpose of it providing the services. ShippingEasy may share the Personal Data with its agents or subcontractors or affiliates or other third-party service providers for the sole purpose of providing or improving the services.
In relation to any Personal Data provided by you to ShippingEasy:
(i) You warrant, undertake and confirm that it has grounds for sharing the Personal Data with ShippingEasy as envisaged;
(ii) Your process and control the Personal Data in compliance with all applicable laws;
(iii) You consent to its use and you have obtained any necessary consents from the receiver of the goods (your customer) as required under the GDPR to pass to ShippingEasy the details required to complete the services requested, including but not limited to name, address, email address, mobile telephone number, and contents of the package;
(iv) You have made your customers aware that such details may be used by ShippingEasy to enhance the delivery process for your customers and it may use notifications and geodata for that purpose. This may involve ShippingEasy sharing such details with limited third parties' data processors, for the purpose of completing the requested services; and
(v) You have told your customers that you use ShippingEasy's services, and give them a link to our Privacy Policy.
Personal Data of EU Data Subjects that originates in the EU will be stored in the EU. As part of providing the services, this Personal Data may be transferred to other regions, including the United States, subject to appropriate conditions provided for in Chapter V of the GDPR, such as the European Commission Standard Contractual Clauses.
Processing Personal Data of EU Data Subjects
ShippingEasy may act as a joint Data Controller with you as well as a Data Processor for the Personal Data of EU Data Subjects in the course of providing services to you, ShippingEasy will:
Process the Personal Data as a Data Processor, only for the purpose of providing the services in accordance with documented instructions from you (provided that such instructions are commensurate with the functionalities of the services), and as may subsequently be agreed to by you. If ShippingEasy is required by law to Process the Personal Data for any other purpose, ShippingEasy will provide you with prior notice of this requirement, unless ShippingEasy is prohibited by law from providing such notice;
notify you if, in ShippingEasy's opinion, your instruction for the processing of Personal Data infringes the GDPR;
notify you promptly, to the extent permitted by law, upon receiving an inquiry or complaint from a Data Subject or Supervisory Authority relating to ShippingEasy's Processing of the Personal Data;
Implement and maintain appropriate technical and organizational measures to protect the Personal Data against unauthorized or unlawful processing and against accidental loss, destruction, damage, theft, alteration, or disclosure. These measures shall be appropriate to the harm which might result from any unauthorized or unlawful processing, accidental loss, destruction, damage, or theft of Personal Data and appropriate to the nature of the Personal Data which is to be protected;
notify you promptly upon becoming aware of and confirming any accidental, unauthorized, or unlawful processing of, disclosure of, or access to the Personal Data; and
ensure that its personnel who access the Personal Data are subject to confidentiality obligations that restrict their ability to disclose Personal Data.
In the course of providing the services, you acknowledge and agree that ShippingEasy may use subprocessors to Process the Personal Data. ShippingEasy's use of any specific subprocessor to process the Personal Data must be in compliance with the GDPR and must be governed by a contract between ShippingEasy and subprocessor.
You agree to fully indemnify ShippingEasy, for any costs, fees, fines, and professional fees incurred due to a breach by you of the provisions of this Section.
26. MISCELLANEOUS
The following miscellaneous terms are fully applicable and important. Please read them with the same degree of care you read the preceding provisions.
ACCOUNT ACCESS: All transactions originating from your account are your responsibility. Please be mindful to whom account access is given, as the account holder is responsible for all charges incurred.
ACCOUNT DELINQUENCY: If on your bill date, the charge for your monthly service fee fails, ShippingEasy will automatically retry the charge up to four times within the three weeks following your bill date. At the end of the automatic retry period, your ShippingEasy account will be suspended until the account is updated with a valid credit card at which time you will be immediately billed for the delinquent charge in order to regain access. If you fail to pay your monthly service fee for multiple months or you maintain a negative account balance, ShippingEasy may elect, in its sole and absolute discretion, to terminate your account. In this event, in addition to all other fees due and owing, ShippingEasy may charge a $25.00 processing fee.

AUTHORITY: By completing the registration process, you agree to pay all fees incurred on your account in accordance with the terms of the service plan selected by you. If you change service plans or your account is automatically converted pursuant to this section of Terms, you agree to be bound by the payment terms of the new plan. If a ShippingEasy account is established for a business or other entity, the person establishing the account represents that he or she has all necessary authority to establish an account with ShippingEasy on behalf of the business or other entity who is the responsible account holder.
COLLECTION: Each party agrees that if timely payment by the other of any amounts due is not made, the aggrieved party may pursue the claim directly or assign such claim for collection, and the collection agency may pursue the collection of the past due amounts and any interest or cost of collection permitted by law.
CREDIT VERIFICATION: ShippingEasy reserves the right to verify the credentials of all persons or companies applying for services.
NO MINORS: You may not register for Services if you are under 18 years of age. By registering for Services you represent to ShippingEasy that you are 18 years of age or older.
NO SUBLICENSE OR THIRD PARTY USE: You may use your ShippingEasy account for transactions for your own direct use. ShippingEasy does not grant the right to sublicense, resell, offer, or utilize any ShippingEasy products or services such that ShippingEasy products or services are stored, loaded, installed, combined, integrated, or displayed as part of a product or software offering (including as part of an application programming interface) of yours to other third party products and services. ShippingEasy does not allow you to sublicense, resell, offer, or utilize ShippingEasy products or services to third parties (including customers of yours). If ShippingEasy determines, in its sole and absolute discretion, that you have violated the foregoing limitations, ShippingEasy reserves the right to immediately suspend or terminate your service/account (without notice).
ORDER ACCEPTANCE/REJECTION: ShippingEasy reserves the right at any time after receipt of an order for products or services to accept or decline the order for any reason.
RELOCATION: You agree to provide updated address and registration information to ShippingEasy in the event of relocation or other changes.
RISK OF LOSS: The risk of loss and title for non-postage products purchased from ShippingEasy passes to you upon our delivery of the purchase to our common carrier for delivery to you.
SALES TAX: Sales tax is not collectible on the purchase of postage. If required by applicable law, sales/use / other taxes may be charged/collected on non-postage purchases and service fees. You are responsible for the payment of all sales, use, or other taxes owed on products or taxable items purchased or utilized regardless of whether such taxes are collected by ShippingEasy at the time of purchase.
SERVICE CHANGES: ShippingEasy reserves the right, periodically and at any time, to modify or discontinue, temporarily or permanently, any functions and features of its services, in its sole discretion, with or without notice, all without liability to you, except where prohibited by law. ShippingEasy reserves the right, in its sole discretion, to offer selected products from its third-party partners, to each individual customer and does not warrant or represent that a full complement of services from each partner will be available through ShippingEasy's services. ShippingEasy may, at its discretion, offer substitute services for any selected services, with substantially the same or improved service levels.
SEVERABILITY: If any provision of these Terms is held to be invalid or unenforceable, such provision will be deemed to be restated to reflect as nearly as possible the original intention in accordance with applicable law, and the remainder of the Terms will remain in full force and effect. These Terms constitute the entire agreement between the parties with respect to the subject matter hereof and supersede and replaces all prior or contemporaneous understandings or agreements, written or oral, regarding such subject matter. Any waiver of any provision of the Terms will be effective only if in writing and signed by ShippingEasy. The failure to enforce any right under these Terms shall not be a waiver of the provision or the right to enforce it at a later time.
SITE MISTAKES: Although we make reasonable efforts to provide accurate pricing information and product descriptions, pricing mistakes, typographical errors or mistakes regarding product availability may occur. We reserve the right to correct such mistakes and errors.
THIRD-PARTY TERMS AND CONDITIONS: You are responsible for following the terms and conditions of all carriers and partners accessed through the Site. Please visit each individual Site to obtain and review their terms and conditions. The use of carrier services via the ShippingEasy platform is at your own risk. ShippingEasy is not responsible for your use of carrier services. Your use of carrier services is as a direct customer of the specific carrier of your choosing and you agree to be bound by the terms and conditions of that carrier for use of services, including the payment of any fees associated and a carrier's right to open, inspect and assess your package before and after collection.
VIOLATIONS OF LAW: ShippingEasy services may not be used in violation of any law or in any way that interferes unreasonably with others' use of the services.