INTERNATIONAL SHIPMENTS Page | Guide
Save time shipping internationally by configuring your INTERNATIONAL SHIPMENTS defaults. Find more help configuring your INTERNATIONAL SHIPMENT settings with our step-by-step guide.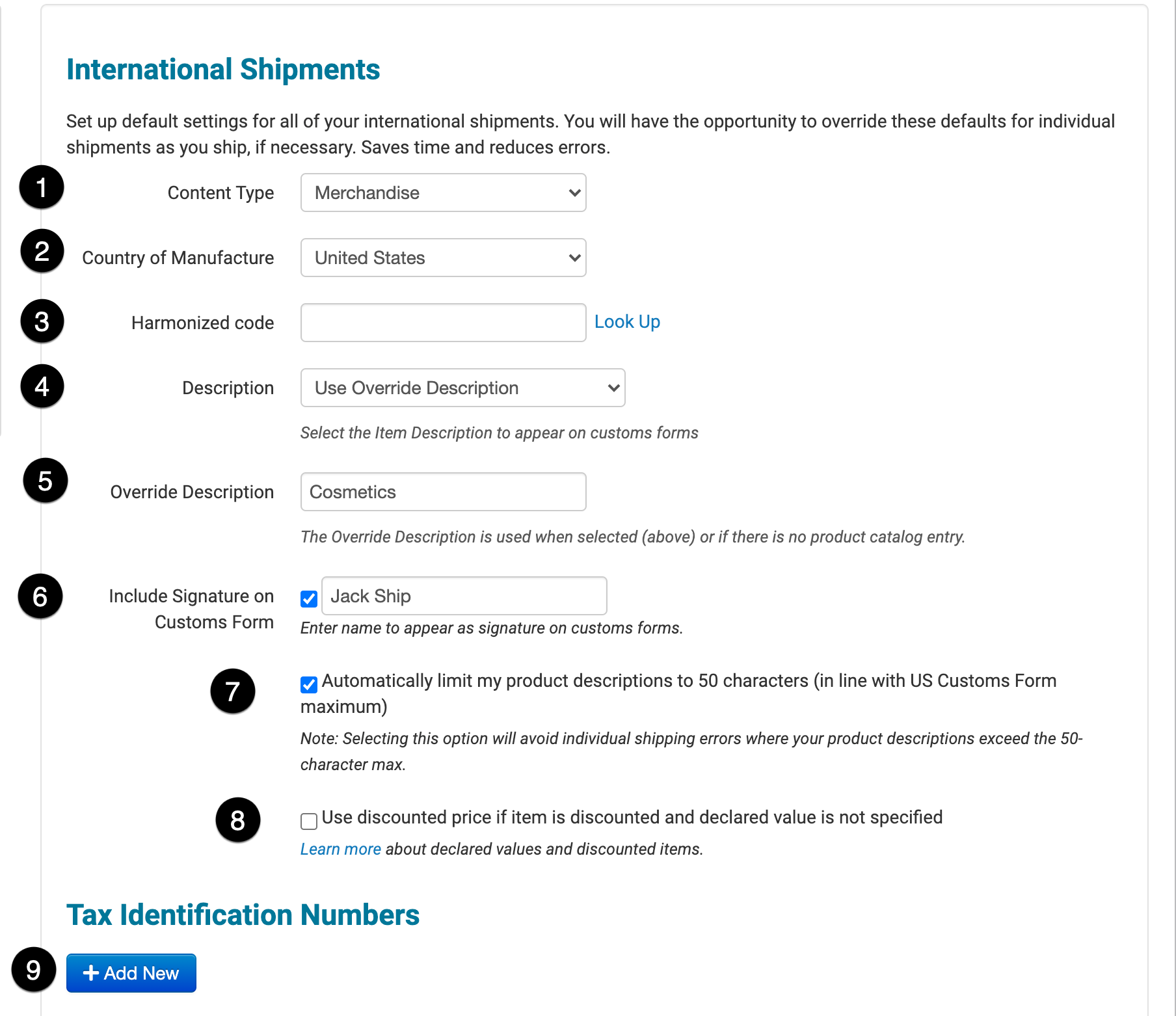 INTERNATIONAL SHIPMENTS defaults:
1. Content Type

A required field on all customs forms. Select the option that best describes your product:

Commercial (sold item)

Merchandise

Gift

Letters

Documents

Personal Effects

Return & Repair

Sample

Other: when selected, a second Detailed Content-Type box will appear for you to type in up to 25 characters to be used as a more detailed description of the customs information.

2. Country of Manufacture

Designate a default country if most or all of your product is manufactured in the same country.

3. Harmonized Code

Adding harmonized codes to your shipments ensures that accurate duties and taxes are assessed. Learn about Harmonized Codes.

Harmonized Codes are required for all products included in shipments traveling to the EU.

4. Description

ShippingEasy gives you the option to control the line item description on a customs form with three options:

Use product catalog item name: this is populated from the store order data.

Use product category description: as listed in the ShippingEasy PRODUCT CATALOG.

Use Override Description: this sets the same description on all items.

If a line item on an international shipment is missing a description, the default name saved in your store will be applied.

5. Override Description

If Override Description is selected from the Description drop-down, this field should be as specific as possible while accurately describing any products you may ship.

If you have chosen one of the other options in the Description drop-down, entering an Override Description can still be useful in case the product SKU is not yet included in the product catalog. This acts as a way to safeguard your shipment from not having any description at all.

6. Include Signature on Customs Form

Save time signing customs forms by affixing your signature electronically. Include a first and last name for your company's representative. Learn how to save your signature.

7. Automatically truncate my product descriptions to 50 characters

Accurate product descriptions help to speed your shipments through customs. While you can edit these individually on the ORDERS and BATCHES pages, checking this option ensures that you'll never forget to reduce the description to comply with US Customs Form maximums.

8. Use discounted price if the item is discounted and the declared value is not specified

Choose to use the discounted product price for each line item on the Customs Form. Learn how to include discounted prices on Customs Forms.

9. Tax Identification Numbers

Select your ITN/Tax ID or USPS Exemption Code, or AES. The Tax Identification Numbers are submitted electronically and not displayed on the label. Learn more about VAT and IOSS.

Available Tax ID Types:

TIN (TIN is a generic "Tax ID Number." Use this option if your Tax ID type is otherwise not provided in the list.)

EIN

SSN

VAT

EORI

IOSS

Obtain Your IOSS Number

If you need your IOSS number, contact your selling channels to request this information. If you do not use the IOSS, your customers WILL pay the VAT upon delivery.