Third-Party Billing for Shipments
If you ship via UPS, FedEx, or DHL Express, you may be billing postage costs to a third party.ShippingEasy can save you time with options to save these credentials for future use. Save third-party UPS, FedEx, or DHL Express account information before you start shipping or on the fly while processing your shipments.
Third-Party Billing Does Not Support:
UPS from ShippingEasy One Balance accounts

International third-party accounts
Once saved, this information will be available on the BATCHES page when processing UPS, FedEx, or DHL Express shipments. Under the "Billing" section, find the saved accounts in the Third-Party Accounts menu.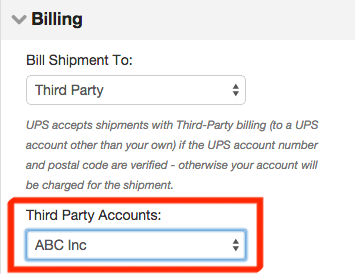 Scroll down to the section for your UPS, FedEx, or DHL Express account. Click the link that says Manage Third-Party Accounts.

Click + Add New.

Fill in the account information: the account number, US postal code, and a name to help you identify the account. Click the Add Account button, and you are done!
Select an order on the ORDERS page to open the Order Details slide out.

Select UPS, FedEx, or DHL Express and service from the Service drop-down in the Shipment section.

Scroll down to the "Billing" section. Select Third Party from the Add billing information drop-down.

Enter the Account Number and Account Postal Code (only required for UPS or FedEx) that you wish to save.

Postal Code Validation

ShippingEasy validates information is present in these fields but does not validate that the Postal Code matches the Account Number.

Check the box to Save Third Party Billing and add a nickname to save this information for future use.

Finish processing the shipment as usual. The account information will be stored for later use.