Create a Pay-On-Use Return Label | How To
Eligibility to Create Pay-On-Use Return Labels
Pay-On-Use Return labels are only available for accounts that requested access before October 1, 2020.
If you want to create POUR labels but did not request access before October 1, 2020, please contact our Customer Success team.
ShippingEasy enables you to purchase and generate Pay-On-Use Return (POUR) labels for USPS Domestic shipments. POUR labels can be included with shipments sent to your customers. You will only be charged for POUR labels if and when scanned in the mail stream. If your customers never use the return labels, then you will never be charged for the return label postage.
Things to consider before using POUR labels:
ShippingEasy's POUR labels are supported and charged through Stamps.com.

Fees for POUR labels are lumped into the charge at the time of use. Stamps.com reporting will show the transaction for the combined charge at the time of use.

The following fees apply depending on the service selected:

$2.45 fee per First Class label

$0.50 fee per Priority Mail label

The transaction fees are deducted from your One Balance account.
POUR labels are printed simultaneously as the outbound shipping label and should be included in the initial package sent to your customers. If your customers choose to return an item, they repackage it and apply the POUR label you provided them.
There are two ways in which a POUR label can be added to an outbound shipment:
Manually in the Order Details slide out.

Automatically via a Shipping Rule
Tracking Data for POUR labels
Tracking data for POUR labels are not sent to any store platform as part of the standard shipment update.
Once your domestic order has the carrier set to USPS in the Order Details slide out,ShippingEasy will display return options.
Activation Required
Confirm that Stamps.com's Pay-On-Use Returns program has been activated on your One Balance account if you receive an error when attempting to add a POUR label. Then verify with ShippingEasy that POUR has been enabled for your account.
Check the box next to Add Pay-on-Use Return Label to add a POUR label to your outbound shipment: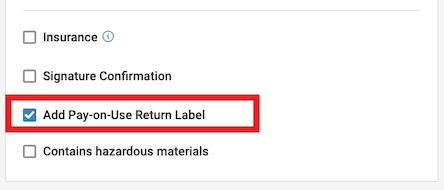 Once checked, ShippingEasy will automatically assign the Service/Packaging and Weight of the POUR label to match those of the outbound shipping label.
You can edit these options if needed. For example, you want to send your customer's shipment via Priority Mail but are happy to ship the return back via First Class Mail.

Service/Packaging and Shipping Presets
The Service/Packaging menu is limited to the Shipping Presets you have created and saved in your account. To add options to the menu, learn more about saving Shipping Presets.
After the return shipment has been processed, it will appear in your SHIPMENT HISTORY. Click the Return Tracking Number link under the outbound tracking number to display the POUR label tracking number.
Tracking data in ShippingEasy will not update until USPS has scanned the label.

To automatically add a Pay-On-Use Return label to an outbound shipment via a Shipping Rule:
Enter a name that describes the rule in the Rule Name field, such as "return label rule".

Set the IF condition to Destination is equal to Domestic and/or another condition of your choosing.

Tip

Only USPS Domestic shipments are eligible for POUR labels. Use the Destination condition to filter for Domestic shipments. The Requested service condition may help filter out other carriers.

Set the THEN action to Create Pay-on-use return label for outbound shipment and select a Service/Packaging option.

Select Use shipment's selections if you want the POUR label to use the same Service/Packaging at the outbound shipment. Or, select an existing Shipping Preset if you would like the POUR label to differ from the outbound shipment. Learn more about Shipping Presets.

Click on Save rule. This rule will be applied to all future shipments that meet the IF condition.

Apply Shipping Rules in Order

Move this Shipping Rule beneath any other Shipping Rules that apply a specific carrier or Shipping Preset to your orders. This way, the carrier service will already be applied to your orders, and ShippingEasy can use this rule to apply the same carrier service as the outbound shipment to your POUR labels.