At ShippingEasy, our solution works right out of the box. We also understand that questions come up - and we have an answer for all of them! Our support is delivered in various ways, including articles, personalized training, and live support. We back our application with online tools and a team of solution-focused Support representatives.
Whether it is your first day at ShippingEasy or years down the road, there are many ways ShippingEasy can help:
Support services vary by plan, as outlined below.
For access to all services, click Need Help? in the top left corner of the app and select the support service from the drop-down: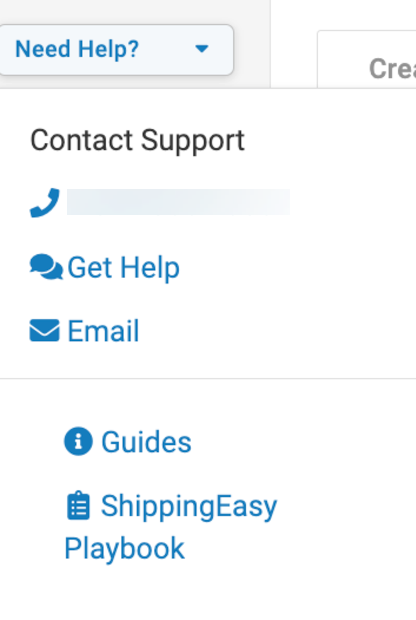 Plan Type

Support Service

All Plans

Help Center: Access our extensive knowledge base full of detailed instructions by selecting Guides from the drop-down.

All Plans

Chat: Chat support is available to help you quickly find answers to questions without leaving the app. Start a chat by selecting Get Help from the drop-down.

All Plans

Community Forums: We encourage everyone - especially our new subscribers - to post their support inquiries to our community so that other users can share their experiences and tips. Our Customer Success team monitors our Community forums and if direct assistance is required, will escalate it to our team. Learn how to participate.

All Plans

ShippingEasy Playbook: Boost your skills and increase your knowledge of the ShippingEasy app with our training catalog.

Click ShippingEasy Playbook from the drop-down menu and find self-paced lessons that walk you through everything from setting up your account to purchasing labels in bulk.

Paid Plans

Conversations: Paid subscribers can connect to a live agent by selecting Get Help from the drop-down. The chat will show options to connect to an agent.

Paid Plans

Phone Support: Paid subscribers can call our Customer Support reps from the phone number listed in the drop-down anytime between 8am - 6pm, Monday through Friday.
Beginning in August 2023, you will notice a new experience within the ShippingEasy chat widget.
These changes will include:
Seamless transitions from our support library to live support

Continuous conversations allow you to pick up where you left off or view your previous conversations all in one place

Easier access to previous conversations

More personalized assistance with a conversational style