View Shipment Details | How To
Once you have created a label, the order record becomes a shipment. A shipment cannot be modified but can provide post-shipping information and features. If there is an error in the shipment, you can cancel the label and create a unique duplicate shipment.
You can view shipment summary information, including your customer's destination details, package contents, and applied rules.
Need to See Carrier Details?
Use Global Search to look up a shipped order and view shipment details like the carrier service. This information will be listed in the Carrier field.
Access shipments by clicking SHIPPING >> SHIPMENT HISTORY in the sidebar navigation.
Click the row to open the Shipment Details slide out. Your shipment summary will appear.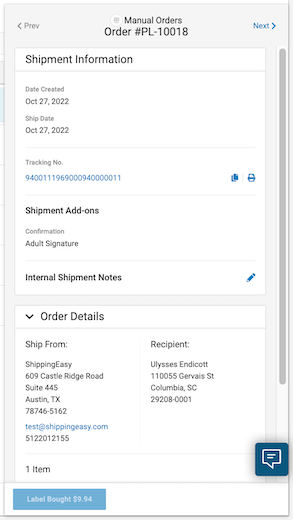 Once you open the Shipment Details slide out, you can access shipment tracking information, an option to reprint a label, and Internal Shipment Notes.
Clicking on the tracking number has two view options depending on your account setup.
Branded Tracking Notification - This notification is what is sent to your customer if Branded Tracking has been enabled on your account.

Carrier Tracking Page - This opens the carrier tracking page with the shipment status and point of delivery.
Click on the

to copy the tracking number.
Click on the

to open a PDF of your label or if you have ConnectEasy installed, reprint a label.
Internal Shipment Notes:
View or edit notes about the shipment. Internal notes do not display outside ShippingEasy and are meant to help organize your shipping process. Learn more about notes in ShippingEasy.