ShippingEasy has made some big updates to how you navigate through the app! We have introduced an improved navigation bar to make your shipping process more intuitive.
The website navigation bar is a set of links that take you to different app parts, organized into a menu.
Previous Navigation Bar

NEW Navigation Bar

The previous horizontal view has been updated to a new vertical view to allow for more order information.
Changes include:
SETTINGS is listed in the navigation bar with a new profile icon with account Alerts.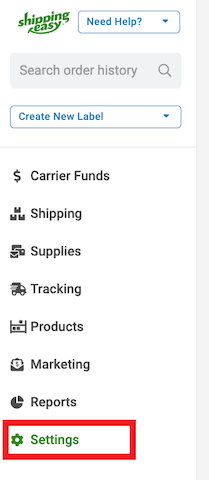 User Help Guides moved under the Need Help? drop-down.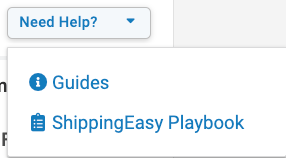 Your most used pages and features have been moved to a new location to streamline your shipping process. Under the SHIPPING section in the navigation bar you can find:

The QuickShip moved to a button labeled Create Label to create manual orders.

All order action pages (ORDERS page, READY TO SHIP, READY FOR PAYMENT, SHIPMENT HISTORY).

Your shipment counts are displayed next to each SHIPPING section to make it more visible.

The Rate Calculator.

One Balance and Carriers postage account.

DEVICES AND HARDWARE with ConnectEasy icon.