Add Notes to Orders & Shipments | How To
If you want to edit the notes on orders after syncing them into ShippingEasy, you can quickly update the notes from the ORDERS page before processing the shipment. ShippingEasy allows for three types of notes to be added to orders: customer, gift, and internal.
You can Add Notes to orders in the Order Details slide out.
The Notes section of the Order Details slide out: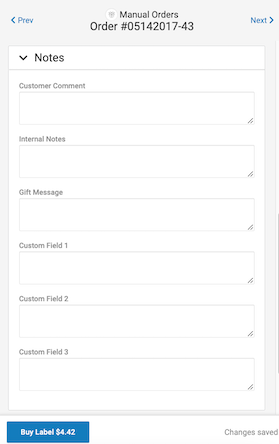 Whichever method you choose, an Edit Notes page will appear where you can edit or add notes.
Internal notes do not display outside ShippingEasy and are meant to help organize your shipping process. Whether you want to leave a note for your shipping staff or a customer has changed an address, and you want to flag a reminder to yourself, adding internal notes to orders can help you stay organized!
Suggested ways to use Internal Order Notes:
Change of address – Ever have a buyer email to update the address they want you to ship to? Add a note to the order! We will flag it, and you can update it when ready to ship.

Buyer comments/late requests – Buyers often send through additional requests post-purchase. Use order notes to tag the order with these comments so things ship correctly.

Multiple shippers – Do you have more than one person doing your shipping? Use these notes to communicate between shifts and people. More communication fewer mistakes.
ShippingEasy allows you to add internal notes at two stages in the shipping process: on the ORDERS page before you pick your shipments or on the SHIPMENT HISTORY page after your print your labels.
To add internal notes before you create your label:
To add internal notes after you create your label:
Go to the SHIPMENT HISTORY page.

Locate the shipment using the filters or using the search box.

Click on the right side of the order shipment and select Add Internal Shipment Notes.

Edit the note in the Shipment Details slide out and select Save.
To confirm and view the note that has been added, you will see a comment icon next to your order number. Click the shipment row, and the note will appear at the bottom of the Shipment Information section.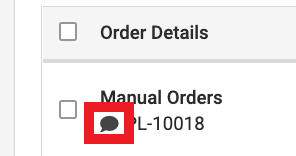 To edit or delete the note, go back to step 3 to access the Add Internal Shipment Notes modal. To edit, enter the new note and click Save. To delete the note, highlight the text and delete, or backspace over the text and then click Save.