Tracking Real-Time Shipment Statuses in ShippingEasy | FAQs
Ensuring your packages arrive safely and on time to your customer is essential to running your business. At ShippingEasy, we make sure you can keep track of the status of all your shipments.
ShippingEasy pulls tracking information directly from carrier websites and displays this information on your SHIPMENT HISTORY page. By default, the Delivery column is to the right of the Tracking column.
Hover your mouse over a delivery icon to see a real-time update of your shipment's tracking status.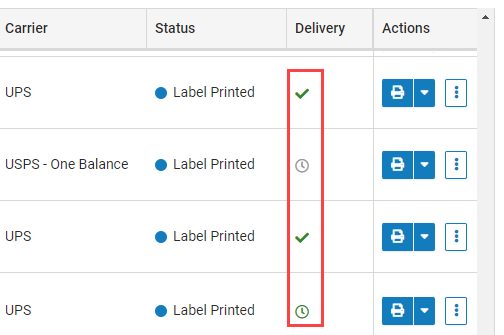 Icon

Status

Details

New

Electronic shipping information received

In-Transit

Processed

Arrival at Unit

Arrival at Sort Facility

Depart Sort Facility

Out For Delivery

Delivery Status Not Updated

Delivered

At/In Mailbox

Front Desk/Reception

Front Door/Porch

Delivery Error

Undeliverable as Addressed

Forwarded

Unknown Error

Tracking cannot be identified correctly

Processed at destination facility

Arrival at the pickup point

Received at opening unit

Missent/Mis-shipped
FedEx overnight services**

UPS overnight services**

Amazon Merchant Fulfilled orders
*Labels must be purchased with an active One Balance account. Delivery status updates are not supported for labels purchased via closed One Balance accounts.
**Delayed updates for non-overnight services are available 48 hours after the label is generated.
Not Supported for Shipping Consolidators
Shipments serviced by a shipping consolidator (such as APC Postal Logistics, Globegistics, and RR Donnelley) are not eligible for delivery status updates in ShippingEasy.
Tracking is a carrier-specific service, so the carrier websites will show more detailed information on where a package is located. Click the blue tracking number on the SHIPMENT HISTORY page to go to the carrier's tracking page.

In ShippingEasy, packages that are in transit and expected to arrive by the delivery date shown on the tracking website will show "In-Transit, Arriving On Time."
If a package will be delivered later than expected, ShippingEasy will show the message "In-Transit, Arriving Late."
To sort your shipments on the SHIPMENT HISTORY page by delivery status, click the Delivery column header.
You can also view shipments by specific status using the Delivery Status filter. Click More Filters at the top of the shipments grid, then select the USPS Delivery Status filter from the lefthand menu. Select any of the statuses below to view shipments with a matching status.