Why can't I track a domestic shipment using USPS First Class - Large Envelope/Flat?
In ShippingEasy, you can select Carrier Packaging for USPS called Large Envelopes/Flat when shipping domestically and internationally with USPS from One Balance.
However, if you have a domestic shipment and selected First-Class Mail as the carrier service and Large Envelope/Flat (No Tracking) as the package type, USPS will not provide tracking or tracking numbers. You can contact USPS for more information.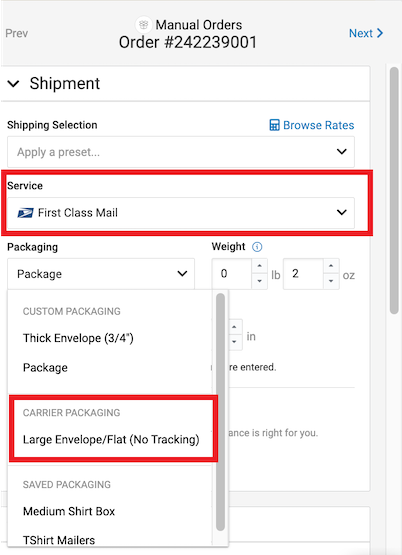 Compare USPS Domestic Service Details to choose a service that best meets your shipping needs.
First Class Mail:
Package Type: Large Envelope/Flat (No Tracking)

Weight: Cannot exceed 13 ounces.
A Large Envelope/Flat (No Tracking) is a flat envelope you would use to ship documents. It is the least expensive service you can get with USPS through ShippingEasy, and it is not eligible for tracking services.
Even though USPS does not include tracking on the very cost-efficient First Class Large Envelope/Flat, USPS does return an unusable reference number when a label is purchased. ShippingEasy hides this reference number on the SHIPMENT HISTORY and in the Shipping Confirmation Emails.
Review ShippingEasy's USPS Rate Tables.
First Class Package:
Package Type: Thick Envelope (3/4") and Package

Weight: Cannot exceed 15.99 ounces
A Thick Envelope (3/4") is often used for padded envelopes and can be used to ship documents or thin objects less than 3/4" thick. It can be a little more expensive, but it does include tracking.
A Package is a parcel that does not meet the mail processing category of letter-sized or flat-sized mail. Packages are in a mailing container, such as a carton, and include tracking.