Automatically Assign Weights to Orders | Guide
ShippingEasy provides automation to help you assign weights to your orders. We have two different ways that you can do this.
By creating a Shipment Rule

By using your Product Catalog
Using Shipping Rules and Product Catalog Weights together
Both Shipping Rules and the Products catalog can be used to assign weights to orders. When they are both used, any Shipping Rules will override weights set by the Products catalog.
The "Estimated Order Weight" rule leverages your shipment history to assign very accurate weights to your SKUs - using data from previous shipments containing the same SKUs.
When using a Shipping Rule, you can automate the process of adding weights so long as an order meets the qualifications that you've set up. This is helpful if your Products do not sync with any weight at all or if you need to override product weights for orders containing specific SKUs.
This method is best if you have already been shipping with ShippingEasy for a while and have shipped most of your Products already.
Learn more about how the Estimated Order Weight rule works.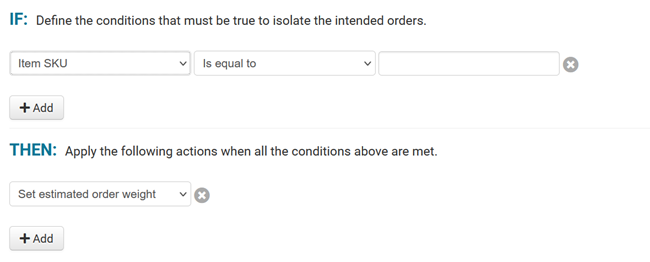 The "Set Order Weight" rule allows you to override an order's entire weight. This rule will supersede any weights assigned by the Products catalog or Package setup, so be sure that the weight accounts for both products and packing materials.
The possibilities are endless with this rule. So, we recommend learning a little more about Shipping Rules before getting started.
This method is best when you know that a specific quantity of a certain SKU will always pack up and weight the same. For example: if SKU contains "XS" and QTY is "5" set the order weight to 1 lb.

The "Add to Order Weight" rule gives you the option to add additional weight to orders. This will be added to any weight synced from your store, saved to your Product Catalog, or assigned to your packaging.
This method is best when you are including an additional item in your shipments, such as a promotional item, or can anticipate extra packaging for certain orders.

ShippingEasy's Products catalog is your personalized database of all the SKUs in your inventory. Product weights can be stored for individual SKUs, assigned in bulk with Product Categories, and even updated in real time while you ship. Learn more about the Product catalog.
Saving your Product SKUs to ShippingEasy is the best way to ensure accurate order weights. This allows ShippingEasy to match up the SKUs in your orders with the SKUs in your catalog.
The math is done automatically and your order weights calculated precisely.
To get started, add product SKUs to your product catalog.
If you already have Product SKUs saved to your catalog, learn more about updating your Products.
Product Categories allow you to group multiple SKUs together. Once grouped, you can assign a single attribute, such as weight, that is applied to all SKUs in the Product Category.
This method is best if you have saved your Product SKUs to ShippingEasy, but have not assigned correct weights to every individual SKU.
Sometimes it is easiest to take the update-as-you-ship approach. This is great if you already spot-check the weights of your products as you ship - and editing your order weights manually.
When you give ShippingEasy permission to update item weights in the Products catalog, when you edit order weights, you will build a more accurate catalog as time goes on.
Learn more about editing product catalog weights while shipping.