Filter Shipments in SHIPMENT HISTORY | How To
Filter the SHIPMENT HISTORY page to view and group shipments by the criteria that you specify. For example, you may wish to filter by:
International Shipments

All the shipments in a Batch

Shipments created within a specific date range

Only shipments that have not been delivered
The above examples are not the only ways to filter shipments history. In this article, we will take a look at the available filter options and at a few examples of how the SHIPMENT HISTORY page can be filtered so that you can learn the process and apply your own filters.
Let's take a look at how the basic process of filtering shipments works. Later, we will look at more specific examples of filtering shipments on the SHIPMENT HISTORY page.
By default, the five most common filters are shown above the orders.

Expand More Filters to see all 11 filtering options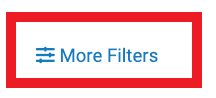 Arrange Your Top 5 Filters
You can arrange the 5 filters listed above your orders by selecting More Filters then Arrange Filters. Select or deselect the options and then click Save.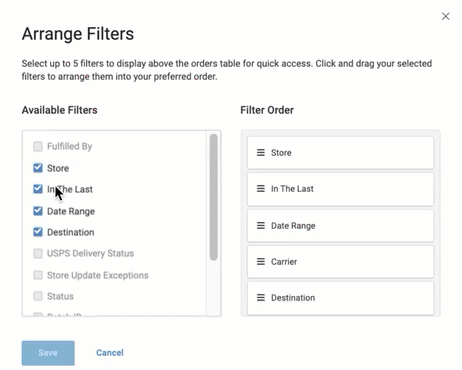 .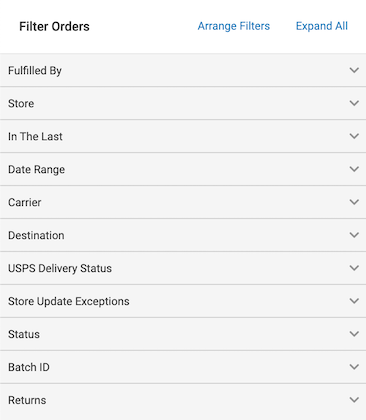 Each of the available 11 filters is a drop-down menu that contains checkboxes or lookup fields. When an available filter option is specified within the filter drop-down menu, only the shipments that match the selected criteria will be displayed.
For example: "In The Last" allows you to check for orders shipped up to 90 days prior to the current day. The below screenshot would display shipments created in the previous 7 days.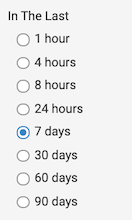 Filters can be stacked, meaning that more than one filter and multiple filter options can be applied. As you select filter options only the shipments that meet all of the selected filters and options will be displayed.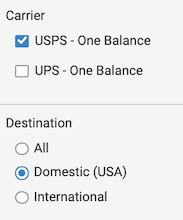 Filters are saved per user login session. When you navigate away from and then return to the SHIPMENT HISTORY page the same filter selections will be applied and the same set of shipments will be displayed. Clear the filter options by clicking the Clear Filters option.

The following table lists the filter criteria available to you when filtering the SHIPMENT HISTORY page.
Filters

Filter Options

Notes

Fulfilled By

Filter FBA shipments by Amazon store.

Only visible if an Amazon store is integrated with your account. Learn more.

Store

Filters by store.

In The Last

Filters shipment processed in the last:

hour

4 hours

8 hours

24 hours

7 days

30 days

60 days

90 days

Date Range

Filter by date range.

Limited to 90-day ranges, and up to 120 days previous.

Carrier

Filters by the shipping carrier used.

Destination

Filters by the destination:

Domestic (USA)

International only

Delivery Status

Filters by the current USPS delivery status*:

New

In Transit

Delivered

Delivery Error

Unknown

Limited to USPS shipments.

*Filter may not be available if you have connected a personal USPS account to ShippingEasy.

Store Update Exceptions

View shipments that have encountered problems sending shipment updates to your store.

Status

Filters by label status:

Label Ready

Label Printed

Label Failed

Canceled

Drop Shipped

Batch ID

Filters by the batch ID number assigned during group batching and printing.

Limited to labels grouped and printed as a batch.

Returns

Filters shipments by:

Prepaid Returns

Pay-On-Use Returns
Below are specific examples of how the SHIPMENT HISTORY page can be filtered. You may find these examples useful when you need to see shipments for a specific store, for a specific date range, or to view shipments that failed to upload to the store.
Save Your Filter Views
Saving your filtered views can be a quick and easy way to filter shipments in the future. [Learn more].
Sellers with multiple selling channels in ShippingEasy may find it useful to filter shipments for a specific store. Here's how:
Go to SHIPPING, then click on SHIPMENT HISTORY.

Click Store in the list of filter options to view a list of your stores.

Check the box to the left of the store(s) for which you would like to view shipments.
The SHIPMENT HISTORY page will refresh with only the shipments for the store(s) you specified.
Other Filter Options Selected?
Remember, when you have multiple filter options selected, you may not see all of the shipments that you expected to see.
For example, the filter entitled "In the Last" is defaulted to the last 7 days. This means that if you do not change it to "all", both filters will be applied and you will see the shipments from the previous 7 days for the store(s) you selected above.
By default, ShippingEasy filters SHIPMENT HISTORY to the last 90 days. Refine your view to shipments shipped within the last few hours, last weeks, or months.
Limited to 90 Days
If you enter a date range greater than 90-days, ShippingEasy will return only 90-days of shipment history starting with the Start Date.
Go to SHIPPING, then click on SHIPMENT HISTORY.

Click Date Range in the list of available filter options. Then, select a Start and End date.

Your page will refresh to show the orders within the selected date range.
ShippingEasy detects callback issues to your connected store(s). When a callback issue occurs, shipment details may not have been communicated correctly, causing orders to not be marked as shipped and tracking details may not be updated.
Use a filter to view shipments where this may have occurred. This will help you with an end-of-day check to make sure everything is good to go across all stores. Here's how:
Go to SHIPPING, then click on SHIPMENT HISTORY.

Click "Store Update Exceptions" in the list of available filters.

Select the Update Exceptions option to show only the orders with update exceptions.

Need to Resend Shipment Updates?

Resend shipment updates to your store(s) for shipments that show exceptions by:

Checking the box to the left of each shipment.

Expanding the Resend/Retry button at the top of the screen.

Selecting Retry Store Order Updates.

Up to 25 shipments can be updated at a time.

Select the All option to show all shipments, with or without update exceptions.