ShippingEasy provides Prepaid returns to accommodate any return policy. ShippingEasy does not provide a portal for your customers to request a return label from your website. While you can always require that customers handle all of the shipping logistics of their returns, shoppers prefer buying from companies that provide prepaid shipping labels.
A prepaid return label is purchased by a merchant, paid for when printed, and provided to a customer in order to return the product back to a warehouse. Keep in mind that you can still seek compensation from your customer for this label, but the actual purchase will be made through your own carrier account.
Prepaid return labels will not physically print when the option to automatically send return shipment notifications has been enabled. The labels may be reprinted from the SHIPMENT HISTORY print actions menu.
There are two ways to create prepaid return labels within ShippingEasy:
Advantages of Prepaid Return Labels
Screen returns: since customers will need to contact your company before sending back a product, you will have a chance to better understand their reasons and take measures to overcome their objections and/or fix any problems.

Save labels: when you email a label to your customer, you save on label and/or ink costs.
Disadvantages of Prepaid Return Labels
More customer inquiries: Having your customers contact you will lead to your customer service team fielding more inquiries. This could drain your resources if you do not have a clear plan in place.

Refund unused labels: When you generate a prepaid label, you pay for it upfront. If your customer changes their mind and does not use it, you are still out of the postage. Fortunately, Stamps.com provides simple tools to locate and refund unused labels. Learn how to locate eligible refunds.
For any prepaid shipment that requires a return to your customer, ShippingEasy can automatically generate a return shipment notification email that includes the shipping label a user can attach to their package and send back to you.
The email provides easy access to the shipments tracking number and all of your company information - including your logo if you would like - just as you have entered it from your ShippingEasy account settings.
Merchants with carefully crafted brands can customize their notification emails. Learn how to save a new email template to your store. If you would like to be up and running in a snap, ShippingEasy offers a default prepaid return shipment email.
Here is an example of the default prepaid return shipment email sent to your customers: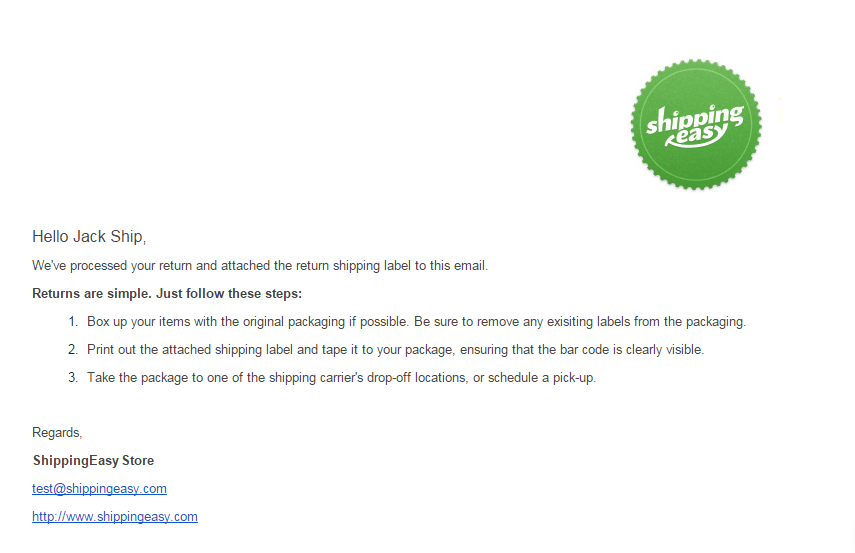 Return labels are not available within ShippingEasy for:
International shipments

UPS Shipments with a declared value of more than $1000

Amazon Shipments: Amazon requires that return labels are uploaded to your Seller Central account. Amazon will then send the label to your customer.

Shipments not listed in SHIPMENT HISTORY: Learn more about manually creating a return label for an order not in SHIPMENT HISTORY.