Paparazzi Premiere connects directly with ShippingEasy. Paparazzi Premiere is a popular fashion line driven by a network of fashion consultants. Paparazzi Premiere is the order management system for Paparazzi Premiere consultants. ShippingEasy helps you manage your Paparazzi Premiere orders, create shipping labels, and market to your customers.
Learn more about how you can start selling with Paparazzi Premiere.
To connect to ShippingEasy , you must log into your Paparazzi Premiere account.
Once you are logged in to your Paparazzi Premiere account:
The following are settings in ShippingEasy that will help you maintain your account and carrier funds so you can keep shipping seamlessly.
Log in to ShippingEasy from a Web Browser
Go to www.shippingeasy.com from Safari, Google Chrome, or Firefox, and use your email and the password you created.
SUBSCRIPTION & BILLING
Your Plan and Billing information are located in SUBSCRIPTION & BILLING.
CARRIER FUNDS
Add money to your One Balance account to purchase labels or connect a 3rd party carrier.
Select the Add Money link to load a balance to purchase labels.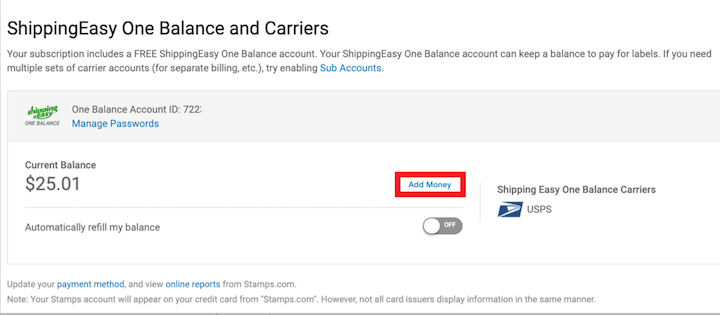 Additional Shipment Set-Up Settings
Once your Paparazzi Premiere account is connected to ShippingEasy, orders will populate on the ORDERS page after they have been paid for in Paparazzi Premiere.
In Paparazzi Premiere
Go to your Orders page and select Open and All to view orders that need to be fulfilled.

Select the customer name to open the Edit Order screen.

Click Add Items to edit existing items or add new items to the order.

You must toggle the "Ship Order" option to On and complete the payment so that the order populates in ShippingEasy.
The following information for your orders is sent to ShippingEasy:
Recipient Name

Recipient Address

Recipient Email

Recipient Phone Number

Custom Field 1

Order Number

Order Date

Item Name

Item SKU

Item Cost
The order Weight and Order Notes will not sync to ShippingEasy.