The Global Advantage Program (GAP) is an international shipping program through Stamps.com that provides an economical way to ship merchandise internationally.
ShippingEasy users have access to two types of GAP services:
Global Advantage Program Single Label

SmartSaver
When printing single USPS international labels for First Class or Priority services with your One Balance account, ShippingEasy automatically prints a GAP label.
GAP benefits include:
Up to 65% in savings over the retail USPS Package shipping cost

No need to print Customs Declaration forms

No need to change your workflow in ShippingEasy
How it Works
Similar to many international consolidators, you first send your packages via USPS to a domestic sorting facility. There, your international shipments are relabeled for their destination, receive their appropriate customs forms, and are then sent on to their final destination.
This means the label you print will be a domestic label addressed to the Postal Processing facility instead of the final destination.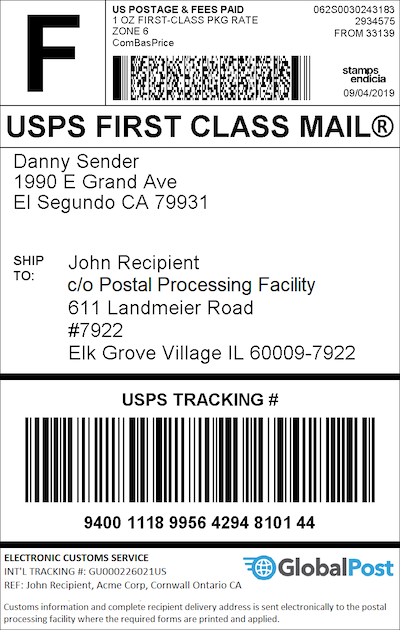 If you have a One Balance account, you are automatically enrolled in the Global Advantage Program.
For businesses that ship 10 or more international shipments per day, GlobalPost SmartSaver offers an additional 15% in savings on GAP labels!
With the SmartSaver service, you consolidate all your individual international parcels into a single, large container. You then send the large container to the sorting facility where the individual shipments will be sorted and sent on to their final destination.
By printing a GAP SmartSaver label with a scan code, the tracking for all included shipments will update when the large package gets scanned.
Contact GlobalPost to apply for the SmartSaver service.
The international tracking number on the GAP label will track the package to the sorting facility and may track the package to the destination country as well, depending on the country.

If you receive an error in the Rate field in ShippingEasy or when you attempt to create a label: You may have a Stamps.com account with a negotiated service agreement.

If this is the case, your Stamps.com account may not be eligible for the Global Advantage Program. Please contact your Stamps.com representative for further information.

For help with tracking or technical support on Global Advantage shipments, email GAPsupport@stamps.com.

If you need to file a claim for a GAP shipment:

Fill out and send the online GlobalPost Claims Form. Claims must be filed by the shipper, not the recipient.

Do not include the shipping cost when filling in the "Claim Amount" field. If the claim is approved, the shipping cost will be added to your total payment.

Claims for damage can be submitted at any time.

Please do not submit claims for lost packages before 30 days after the shipment date.

All claims must be submitted within 90 days after the shipment date.

Claims can take up to 3 weeks to be processed. Please contact GlobalPost if you have not received a response to your claim within 3 weeks.

For more information about the Global Advantage Program, please review the Stamps.com Global Advantage Program FAQ.