Amazon Prime Orders with ShippingEasy
ShippingEasy offers the ability to ship Amazon Merchant Fulfilled Prime orders through ShippingEasy.
ShippingEasy does not read Amazon Prime orders from your Seller Central account unless the Prime feature is enabled in ShippingEasy. This is to prevent the accidental shipping of Amazon Prime orders using non-Amazon shipping labels.
Amazon Merchant Fulfilled Prime orders are required to create labels using the Amazon Buy Shipping API integration.
Accept New Amazon Buy Shipping API Terms and Conditions
Starting Sept 1, 2022, current Amazon Buy Shipping API users will see a notification in ShippingEasy prompting acceptance of the new Terms and Conditions.
If you do not accept the new Terms and Conditions via the notification, access to Amazon Buy Shipping API services will be disabled. To re-enable, follow the Connect Amazon Buy Shipping to ShippingEasy steps.
Contact our Customer Success team to enable Merchant Fulfilled Prime for your ShippingEasy account. Customers on the Starter plan can email support@shippingeasy.com with their account information to request Merchant Fulfilled Prime.
You can create labels for Amazon Merchant Fulfilled orders imported from either an Amazon store or a ChannelAdvisor store.
Connect Amazon Buy Shipping. For US-based accounts shipping Amazon Merchant Fulfilled Prime orders through ShippingEasy, you are required to create your labels using the Amazon Buy Shipping integration.

Email address to be associated with the Ship From address: When the email address is missing, ShippingEasy will default to the email address saved on the Store, Account Details, or Admin User of the account. Learn more about editing your STORE ADDRESS settings.

Acceptance of terms and conditions: To enable Amazon's shipping services, log into your Amazon Seller Central Account and accept the Terms and Conditions. Click through this link: https://sellercentral.amazon.com/gp/shipping-manager/terms-and-conditions.html
After your ShippingEasy account is enabled to sync Amazon Prime orders, future orders will automatically sync. If you have existing, unshipped Amazon Prime orders that you would like to process through ShippingEasy, please reach out to our Customer Success team. Find links to email, chat, or call us in the top left corner of your account. Our team will need to know the date the oldest unshipped order was placed.
Carrier services for Amazon shipments are provided through Amazon's shipping services. There are several carriers available and you will need to enable all of them, even if you do not plan to use them all, in order for ShippingEasy to access shipping rates. Learn more about Amazon Carrier Services with ShippingEasy.
ShippingEasy supports these four Amazon carriers:
USPS-Amazon

UPS-Amazon

FedEx-Amazon

Dynamex-Amazon
The "- Amazon" in the name indicates that Amazon is printing the shipping label and that Amazon will charge you for that shipping label. Your One Balance account will not be charged for USPS - Amazon shipping labels.
The specific service(s) that can be used to ship an Amazon order is determined by Amazon. ShippingEasy only displays the carrier services that Amazon indicates are eligible for use with a specific Amazon order.
For example: if you ship from California and an order's recipient is in New York, Amazon will provide ShippingEasy with a shorter list of eligible carrier services to display than if the recipient was near your shipping location.
Buying shipping labels from Amazon works a little differently than buying directly from the carriers.
Once Amazon Prime has been enabled as well as the Amazon Buy Shipping API connected to your account, the Merchant Fulfilled Prime orders will import onto the ORDERS page.
Identify Prime orders on ORDERS page
You can identify Amazon Prime orders by adding the Prime column to the ORDERS page:
Click the link for Arrange Columns.

Scroll down the list of available columns that are listed on the left until you see the entry for Prime. Click the arrow > to the right of Prime to move it to the "Show Columns" list on the right.

Drag the entry to the position you want.

Click Save at the bottom of the list.
Select Amazon Carrier Services on READY TO SHIP
For an Amazon order, there will be up to four specific entries in the Carriers list on the READY TO SHIP page.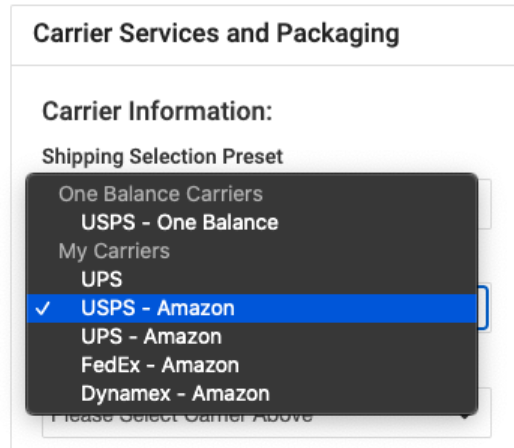 For shipping labels purchased from Amazon, Amazon provides access to a set of rates across USPS, UPS, and FedEx. Those Amazon rates will be used unless you connect your own UPS or FedEx account in Amazon to access your negotiated rates. USPS labels can only be purchased at Amazon's rates.
This is different from when you purchase USPS shipping labels in ShippingEasy for any type of order other than an Amazon order. For those orders, you get the market-leading low USPS rates that are associated with your ShippingEasy plan type. Similarly, for UPS and FedEx, you get whatever rates you negotiated with UPS or FedEx for your account.
In most cases, ShippingEasy will automatically remove shipped orders that are still present on the ORDERS page. However, if you have Amazon orders that were moved from the ORDERS page and do not intend to ship via ShippingEasy, we recommend manually clearing them from ShippingEasy. Learn more about deleting orders.
Important
For any updates to reach the order from Amazon, the order must remain on the ORDERS page. If the order is moved from the ORDERS page before being canceled on Amazon, the order will not clear from ShippingEasy and will need to be manually removed.
There are some restrictions when using Amazon Prime with ShippingEasy. We do our best to minimize any hang-ups though it is best to be familiar with what is not available when using this service.
Order editing
You can only change the weight.
No other attributes on the order can be changed. Amazon does not provide support in their software for ShippingEasy to specify anything about the shipment for orders other than the weight and the dimensions of the box.
For example, ShippingEasy will not tell Amazon which destination address is used, so changing it in ShippingEasy would lead to confusion - the address shown in ShippingEasy would not match the address that Amazon actually used to create the shipping label.
Batching Orders
Available carriers and services will be limited to just those that Amazon will allow for all shipments within the batch. Finding the common carrier and service for a batch of orders could get complicated and potentially more time-consuming than shipping the orders individually.
Duplicate Shipments
To create a duplicate shipment, you must first cancel the existing shipment. The limitation is that Amazon does not support duplicate shipments for a single order. But if the original shipment is canceled, then ShippingEasy will allow you to create a duplicate shipment.
Not Supported for Amazon Prime Orders:
Multi-box Shipments

Combining or Splitting

Marked as Shipped

Return Labels

Set a Future Shipment Date

International Shipments

Signature Confirmation