Open a New ShippingEasy Account
You are looking to get products to your customers quickly - and we have built a solution to make that easy!
Creating a new ShippingEasy account takes a few minutes, and no credit card is required to explore the app.
This gives you a risk-free opportunity to explore ShippingEasy's tools and features.
Go to https://www.shippingeasy.com to start your free trial.

Provide some basic details about your business.

Email - for account-related communications, this will also be your username.

Create a password - pick a secured password with a minimum of eight characters to protect your data.

Company name - this will be the name of your account.

Phone number - provide the best contact for your shipping department.

Primary store platform - Select your store from the drop-down list.

How many packages might you ship per month? - Select the range that best describes your projected sales volume, we will use this to match you with the plan that is best suited to your business.

Select the Get Started button.

Select Text Me or Call Me to receive your verification code.

Enter the 5-digit code and then click on Verify. If you did not receive a code, select the Resend it link.
You will now be guided through a quick setup process so you can begin shipping.

(1) INFO
Tell us about yourself! Complete the basic company information and click the Continue button.

(2) ORDERS
ShippingEasy can get orders from your connected selling channel. Connect your store now, enter the URL, or Skip this step.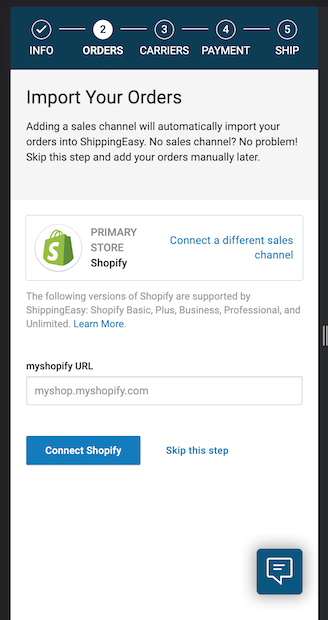 (3) CARRIERS
Connect ShippingEasy Carriers, USPS, and UPS, to access discounted rates, or check the box if you want to connect your own UPS® account. Click Continue.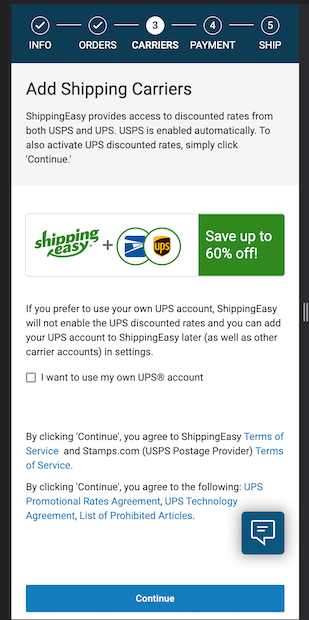 Additional Carriers
Once you have created your ShippingEasy Carrier account, you will have the option to connect your existing shipping accounts like FedEx and DHL Express. This allows you to access your negotiated rates with these additional carriers.
(4) PAYMENT
Enter your credit card information and click Add Payment to begin creating labels. This credit card will also be used for your monthly subscription once the free trial ends.
You may see a temporary charge of $1 on your account as we verify your credit card. This charge will not go through once we have verified the card.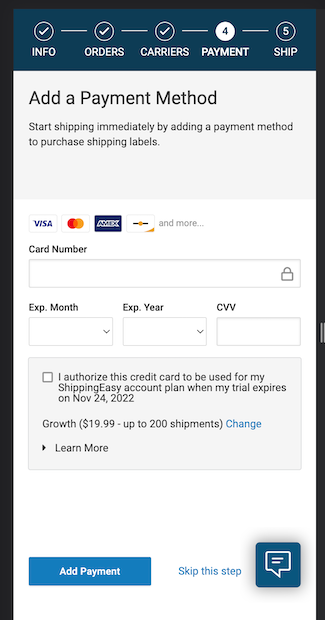 If not ready, click Skip this step.
Required Payment
If you choose to skip adding your payment method, you will be prompted to enter credit card information if you try to access the following pages and features within the app:
CARRIERS

SUBSCRIPTION & BILLING

Buy Label on the ORDERS page
(5) SHIP
You have set up the essentials to start shipping! Click Start Shipping to view your orders and print labels, and you are ready!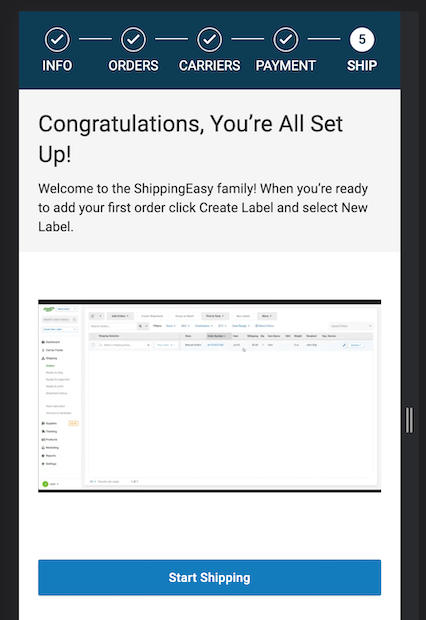 The ShippingEasy's navigation bar is located on the left side of the page. Use this to move around the app. Learn more about ShippingEasy by exploring our page guides.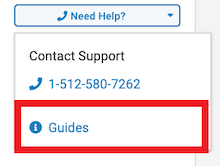 Please review some of our Getting Started articles to help you get acquainted with the app.