Use Barcode Scanning with ShippingEasy | How To
Time is money and errors are expensive. So saving time and reducing errors are important. Using a barcode scanner can reduce packing errors. A barcode scanner can also speed up your shipping process. ShippingEasy's support for barcode scanning enables both.
Pick and pack with barcodes
Pick and pack quality control systems reduce errors. To use a pick and pack quality control system you must enter accurate order information. ShippingEasy barcodes can help!
ShippingEasy can display barcodes on a packing slip or a pick list. Learn more about adding barcodes to a packing slip or pick list. ShippingEasy can display any of an order's variables as a barcode. Learn more about order variables for packing slips and pick lists.
Two fields that are frequently displayed as a barcode are order number and item SKU. In this example, the packing slip and pick list have order number and SKU barcodes. Both are ready for use with a pick and pack quality control system.
| | |
| --- | --- |
| Packing Slip | Pick List |
Most pick and pack systems require scanning the order number barcode first. Then scan each SKU barcode as you pack items in the box. One example of a pick and pack quality control system is Groovepacker. Learn more about using Groovepacker with ShippingEasy.
Look up orders ready to ship with a barcode
ShippingEasy supports an almost infinite number of workflows for printing shipping labels. If you use the READY TO SHIP page to print one shipping label at a time then it is important to work efficiently. Barcode scanning can help!
One-at-a-time-shippers can use packing slips to identify each order. A barcode on the packing slip identifies the order.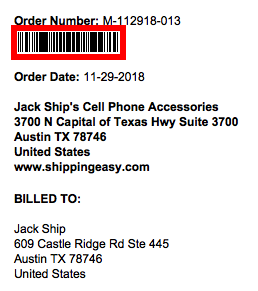 The key to rapid processing is to keep your hand on the barcode scanner. ShippingEasy allows you to print a shipping label from the READY TO SHIP page without your mouse or keyboard!
Select carrier services using a barcode scan sheet
Print out ShippingEasy's barcode scan sheets by navigating to SETTINGS  then BARCODES & SCAN SHEETS >> Shipping Presets tab. Learn how to print barcode scan sheets.

Next, navigate to SHIPMENTS >> READY TO SHIP.

Using your scan sheet, scan the barcode for the order number to load the order. The order number displays on the READY TO SHIP page.

If the weight of the package needs to be updated, scan the barcode for adjusting a shipment's weight. Learn how to edit weights on the READY TO SHIP page.
If you need to select a different carrier, service, or packaging, scan a barcode for a Saved Selection. Learn how to apply a saved preset.
Scan the barcode for printing a shipping label.
Repeat steps 3 through 6 for each shipment.