Advance the Ship Date of Shipments | How To
When shipping via USPS, FedEx, or DHL Express, you have the option to select an advanced ship date. Each carrier has specific limits for how far in advance you can post date a label:
USPS - One Balance: up to six days
UPS - One Balance: up to six days
FedEx: up to 10 days
DHL Express: up to 10 days
Sometimes you will have a need to advance the date for individual orders - while other times you might find it easier to automatically advance the date for all labels processed after a certain time each day. In either case, we have you covered!
ShippingEasy automatically advances the shipment date to Monday for USPS labels created on a Sunday.
Advancing the Date for Individual Orders
When selecting a carrier and service within the READY TO SHIP page, you are able to select a ship date up to six days in advance for USPS shipments. To the right of the selected date, the estimated delivery date will be displayed based on the selected shipment date and the selected service.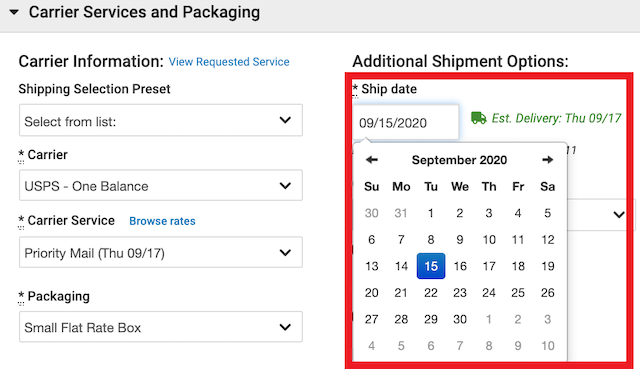 Automatically Advance the Date After a Cut Off Time
If you have a cutoff time after which your qualifying shipments should always have the following day's date, you can have ShippingEasy advance the date automatically.
Click on the My Profile link at the top left of your account.

Then select the time of day when you want ShippingEasy to automatically advance the ship date to the following day. In this example, we set it for 5:00pm. This means that any labels generated after 5:00pm would be automatically generated for the next day.


Click Update Profile.
The time used to automatically advance ship date is based on the account's time zone.
Find the account's time zone by going to SETTINGS >> ACCOUNT SETTINGS. 
If individual users are in different time zones, adjust the Automatically advance ship date time in relation to the account's time zone.
For example, the account is based in CT and the user is in ET. The cut-off time for the warehouse where the user works is 3:00pm ET. Since the user is in ET, set the user's Automatically advance ship date after time to 2:00pm CT.