ShippingEasy on Mobile Phones
Improving the Mobile Experience
ShippingEasy continues to improve your shipping experience when using a mobile device. When new features are released, we will update this article.
Mobile features are available on:
ORDERS page

SHIPMENT HISTORY page
Revert the desktop version to access all ShippingEasy components.
Shipping on your mobile device just got easier! The app will recognize when you log in to your account from your phone and default to the mobile view. The app will open on the ORDERS page showing your orders one at a time.
If your phone does not autodetect the mobile view, type in /m/orders at the end of the web address.

Use the Add to Home Screen to create an "app" for quick and easy access.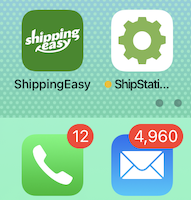 ShippingEasy Mobile Features
The mobile view is available only on the ORDERS and the SHIPMENT HISTORY page. Some of the features that you can use from these pages include:
ORDERS Page

SHIPMENT HISTORY Page

Add Manual Orders

Copy and Paste order information

Add and edit line items

View orders in a scrollable list

See product images and detailed information about an order's line items

View order notes, tags, and custom fields

Apply Shipping Presets to your orders

Adjust dimensions and weight of an order

Add confirmation options

Add Shipsurance

Create and buy your shipping labels

Pull down store sync

Remove an order or 'Mark as Shipped'.

Reconnect a disconnected store

Print labels

View the shipment details

View, copy, and click the tracking number to go to the carrier's website

Cancel a shipment

Resend the shipment confirmation email to yourself or to your customer

Retry your store sync for shipments that have not been updated

Sort your shipment list

Add Internal Notes to shipments
To operate functions within the app in the mobile view, follow these steps:
Click the hamburger menu (three horizontal lines) to see the side navigation bar.

Move between each PAGE within your account from the navigation bar or return to the Desktop View.

Click < Prev or Next > to move between orders. The total number of orders on the page is also displayed.

Click the Sync icon. This will show three available options depending on how your ShippingEasy account is set up.

Sync one or all of your stores by clicking the Sync icon next to Orders.

Sync individual stores by clicking the Sync icon next to the store.

Click Connect Store to reconnect a disconnected store.
Follow the steps to add a manual order using the mobile view.
Click on + Add order.

Search Addresses for a saved Customer Address or paste the ship to information in the Address box. You can also fill in the address line by line by selecting Show Address Fields.

Add the customer's email (required for shipping notifications) and phone number

Enter in the Order Details such as:

Order Date

Shipping Costs

Order Total

Item Name

Quantity

Weight

SKU

Price

Custom Fields

Click Add to create the order.
Now you can apply a shipping carrier, service, and package to buy your label.
After you have reviewed the order and made any necessary edits, you are ready to buy the label.
Select to Apply shipping preset:

Or choose from one of your connected carriers:

Click Buy Label once you have a rate quote:

If you do not have enough funds in your account to buy the label, we will suggest an amount to add to your balance.

Select one of the two options Print Label or Download Label when you see Label Purchased.

Print Now sends the label to your connected printer through ConnectEasy.

Download Label will open up a PDF label.
You are done!
After a label is purchased, the shipment will move to the SHIPMENT HISTORY page, where you can review the details.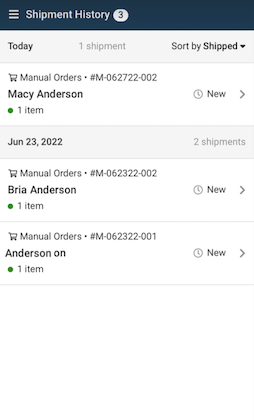 Sort shipments on the SHIPMENT HISTORY page by clicking on Sort By. The options to sort are:
Delivery - A to Z

Delivery - Z to A

Number of items - High to low

Number of items - Low to high

Order number - High to low

Order number - Low to high

Shipped - Newest to oldest

Shipped - Oldest to newest

Status - A to Z

Status - Z to A

Store name - A to Z

Store name - Z to A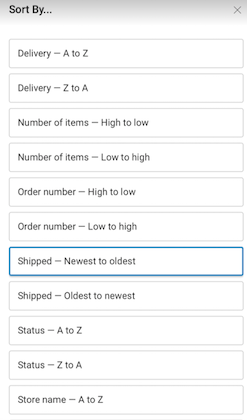 Click on the shipment to open the Shipment Details page.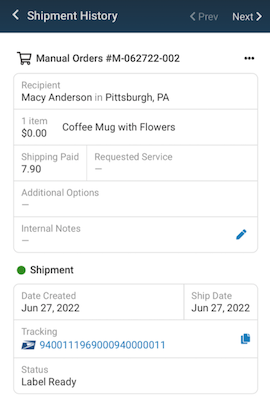 Click the actions

icon to:
Cancel Shipment

Retry Store Order Update

Resend Email to Myself

Resend Email to Buyer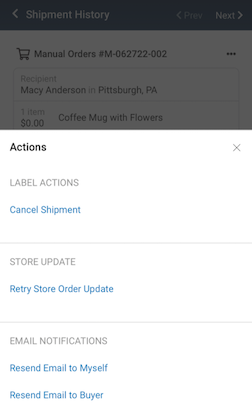 Click on the pencil icon to enter Internal Notes for the shipment. Learn more about internal notes.