LuLaRoe integrates directly with ShippingEasy. LuLaRoe is a popular fashion line driven by a network of fashion retailers. BLESS is the order management system for LuLaRoe retailers. ShippingEasy helps you manage your LuLaRoe/BLESS orders, create shipping labels, and market to your customers.
How to connect your LuLaRoe BLESS account to an existing ShippingEasy account
Select LuLaRoe BLESS from the Platform drop-down menu.

On the next screen, fill in the settings you want ShippingEasy to use for this store (name, address, etc.). Click Save at the bottom of the page after completing this information.

Enter your LuLaRoe BLESS account credentials into ShippingEasy to complete the integration setup.
To complete the connection between LuLaRoe BLESS and ShippingEasy, you will need to enter your API credentials for both LuLaRoe BLESS and ShippingEasy in each application.
Log into your LuLaRoe BLESS account in a new browser window.

Go to Account > Settings.

Select ShippingEasy API from the Settings menu.

Click the Edit Settings button.

Return to ShippingEasy in a separate browser window. Navigate to the STORES & ORDERS page from your SETTINGS.

Locate the Store API Key for your LuLaRoe BLESS store. Click the Copy icon next to your Store API Key.

Return to your LuLaRoe BLESS account. Enter your Store API Key copied from ShippingEasy into the API Store Key field of your ShippingEasy API Settings in LuLaRoe BLESS.

Return to ShippingEasy. Navigate to your SETTINGS > ACCOUNT SETTINGS > API Credentials.

Locate and copy your ShippingEasy API Key.

Enter your ShippingEasy API Key into the API Key field of your ShippingEasy API Settings in LuLaRoe BLESS.

Return to your ShippingEasy API Credentials page. Copy your API Secret.

Enter your ShippingEasy API Secret into the API Secret field of your ShippingEasy API Settings in LuLaRoe BLESS.

Click the Save button in LuLaRoe BLESS.
Your LuLaRoe store is now connected to ShippingEasy! Your BLESS account will automatically send orders in the Completed status to ShippingEasy.
When your BLESS account is integrated with ShippingEasy, LuLaRoe orders that are Complete are automatically put into ShippingEasy in the Awaiting Shipment status. By default, ShippingEasy checks your BLESS account every hour for new orders.
Orders must be in the Complete status and have the Ship This Order option checked in BLESS to sync to ShippingEasy. Orders that are not yet Complete in BLESS will not be sent to ShippingEasy.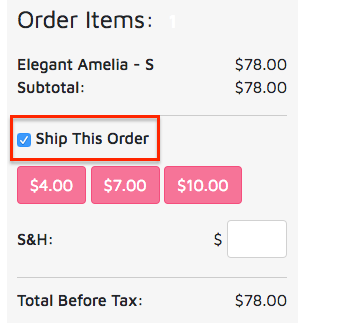 The following information for your LuLaRoe BLESS orders is sent to ShippingEasy:
Recipient Name

Recipient Address

Recipient Email

Recipient Phone Number

Pop-up Name, as Custom Field 1

Order Number

Order Date

Item Name

Item SKU

Item Cost
The Order Weight and Order Notes will not sync to ShippingEasy.