Ship From a US Territory or Military Address | How To
US Territory and Military Addresses are considered "domestic" for outbound shipments from the United States. However, shipping from these locations is not supported by most domestic carriers. ShippingEasy will only support shipping from the US outbound to these territories and military bases.
ShippingEasy cannot provide reliable support for shipping from US territories or military addresses.
Additionally, if you choose to print a label when shipping from a US territory or military address, you may need to manually fill out any appropriate customs form associated with the package.
When sending packages to the Military (APO/FPO/DPO), you pay domestic prices and must follow specific guidelines regarding formatting addresses.
USPS Format for Military Addresses
Write out the service member's full name in the address - All mail sent to the Military must be addressed to someone specific; addressing mail to "Any Service Member" is no longer permitted by the USPS.

All lines of the delivery address should appear in all capital letters.

Include the unit and box (where applicable) into Address Line 1.

In the 'City' field, enter APO/FPO/DPO.

From the State field, select:

Armed Forces - AE is the abbreviation for Armed Forces. It is used by armed forces in Europe, the Middle East, Africa, and Canada.

Armed Forces Pacific - AP is the abbreviation for Armed Forces Pacific and is used for the Pacifics.

Armed Forces America - AA is the abbreviation for Armed Forces America, which excludes Canada.

Enter the 5-digit zip code.
Examples:
CPT JOHN DOE UNIT 2050 BOX 4190 APO AP 96278
SGT ROBERT SMITH PSC 802 BOX 74 APO AE 09499
SEAMAN JOSEPH SMITH USCGC HAMILTON FPO AP 96667
MSG JANE DOE CMR 1250 APO AA 09045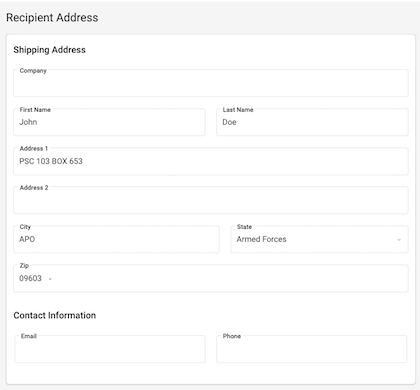 Shipments going to Puerto Rico are addressed using a format similar to US shipments. The USPS recognizes addresses in Puerto Rico as domestic. The main difference is "Calle," which means "street" in Spanish. Calle will be placed before the street's name for Puerto Rico shipments. For example 234 Calle Mariposa Apt 6.
Various address formats are specific to the location of the residence, such as:
Apartment Building with Street Address

Condominium with Street Address

Four-line Address

Three-line Address
Find the correct formatting and exceptions on USPS's Puerto Rico addresses page.
Format a Puerto Rico Address in ShippingEasy
Special characters are not supported
Special characters currently cannot be used, such as ñ é í ó ú ü ¿ ¡. These will need to be removed and replaced with the Roman alphabet. To allow for additional space, we recommend abbreviating when you can. Using Google Translate can be a great tool for determining what changes can be made.
Write the house or building number and 'Calle' in the Address Line 1 field. Example: 14 Calle Peral N.

Write the apartment, condominium, or building name in the Address Line 2 field. Example: Villa Nevarez.

Select "Puerto Rico" from the State drop-down.

Write the zip code in the Postal Code field. Verify the zip code using the USPS verification tool.
To ship to US Territories, simply select the matching options (listed below) from the State drop-down menu and set the country as 'United States.' Alternately, if uploading orders via CSV file, please use the abbreviations listed below for the State field, and set the country as 'United States.'
| US Territories/Commonwealths | State Menu Selection | State Abbreviation |
| --- | --- | --- |
| American Samoa | American Samoa | AS |
| District of Columbia | District of Columbia | DC |
| Guam | Guam | GU |
| Marshall Islands | Republic of the Marshall Islands | MH |
| Micronesia | Federated States of Micronesia | FM |
| Northern Mariana Islands | Commonwealth of Northern Mariana Islands | MP |
| Palau | Palau | PW |
| Puerto Rico | Puerto Rico | PR |
| Virgin Islands | Virgin Islands | VI |