Create a Campaign Template
So much of the potential of a Campaign lies in the content you send to your customers.
You want the Campaign to capture your audience's attention and to look great on any device. By using ShippingEasy's simple editor, you can achieve this in just a few steps:
Select a template. Build on a past Campaign, personalize one from the Campaign Gallery, or start from scratch

Customize the template. The simple editor makes this easy.

Preview your design. See how the Campaign will look across a variety of viewing devices.

Export the template HTML. Copy your campaign HTML for use in other campaigns.

Save your template. Save your template for further editing.
We've made it easy to select a Campaign template that'll get you off on the right foot.
Click the Create Campaign button at the top left of the page.

Select a tab from one of the four choices to use as a starting point for the email message you want your contacts to receive.

Themed Templates: these are ready-to-customize templates that our team at ShippingEasy has prepared for you. These provide a variety of options, with different colors and layouts, in the following categories:

All

Sales & Discounts

Newsletter

Seasonal & Holiday

Welcome & Follow-Ups

Winback

Each is designed to look good regardless of whether your customer views the email on a desktop, tablet, or phone. Making it your own is easy - just replace the images, text, and links. Use an option from the Campaign Gallery as a launching point for your next big idea!

Layouts: These templates are already formatted with well-placed text and image boxes that make it easy for you to customize the content.

My Campaigns: these are your saved Campaigns. Select one of these to build on one of your earlier Campaigns.

Blank Email: there's nothing quite like starting with a blank slate. Use the simple drag and drop editor to build the Campaign template to fit your precise vision.
When starting from a template: select one of the campaign template tabs or the "My Campaigns" tab. Then locate the template you want to build on. Clicking the template will show you a preview of the template. Click the Select button to get started.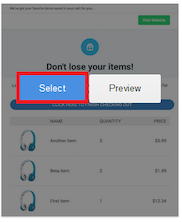 When starting from scratch: on the "Blank Email" tab, click the Start Editing button to get started.

When working on your Campaign template, make sure that first and foremost you know what action you want your customers to take after opening it. Then design around that purpose. The drag and drop editor makes it easy to customize the design elements. Learn more about template design tools.
Also, decide if the Campaign will be sent once (Regular) or dripped (Automated). Regular Campaigns are sent to a specific list of customers once. Automated Campaigns are sent continuously to customers who fit a predefined profile. Learn more about the differences between these types of Campaigns.
How you approach customizing the Campaign template will vary depending on where you start.
If you are building on a saved My Campaigns template:
When building on a previous Campaign, consider how well the Campaign performed in the past. Use this learning to enhance the design. Anything that is under-performed is an opportunity to try something new.
If you choose to use a template from the Campaign Gallery:
It's important to remember that the images and text in each example template are just placeholders. You will need to customize it so that it contains the exact email content that you want. This includes replacing images, text, and links to reflect your brand and product focus.
If you are starting from scratch:
The sky is your limit! A fast way to use elements from Campaigns that you've sent in the past, perhaps even through different software, is to copy over the HTML code. Find this, and more options, in the drag and drop editor.
As you work through your design, be sure to Preview it. Especially before you send it! The Campaign preview will allow you to see how the email is going to look on different devices: desktop, tablet, and mobile. Since you never know where your customers will engage with your brand next, it's best to optimize your message for all possibilities.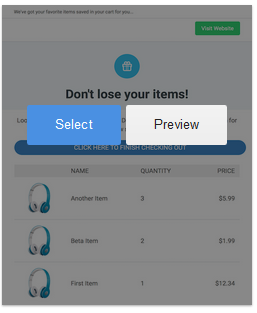 To preview a Campaign template:
Click the Preview button in the upper-left section of the (4) Confirm page.

Click any of the three tabs: Desktop, Tablet, Mobile. Each displays the email as it will appear in a typical email program on these devices.

Select "Send Test" to receive a test email.

For Automated Campaigns: If any store-specific variables have been used, you can view how the message will appear when being sent from a specific store.

Select that store in the modal and then enter the email to send the test campaign to.

Click Send Test.
From here, you can continue editing, save the template, or send it.
Once you have completed your Campaign template, it's time to send it! Based on the type of Campaign template that you built, click through for the next step: