What is the Savings Alert "Change Service" button on the BATCHES page?
There are many ways to save with ShippingEasy. One of the most useful tools on the BATCHES page is the Compare Rates tool, presented in the form of a blue "Change Service" button above the print options.
This button allows you to see other possible shipping options that could save you money.
For example: if you are shipping with Priority Mail cubic, it may actually be cheaper to ship Flat Rate.
To use this feature, you would first create a shipment and send it to the BATCHES page. After you have made your selections, if ShippingEasy has any money-saving suggestions for you, we will display the button. If ShippingEasy does not have any suggestions, no button will appear.

You can click on it to see what saving options you have available.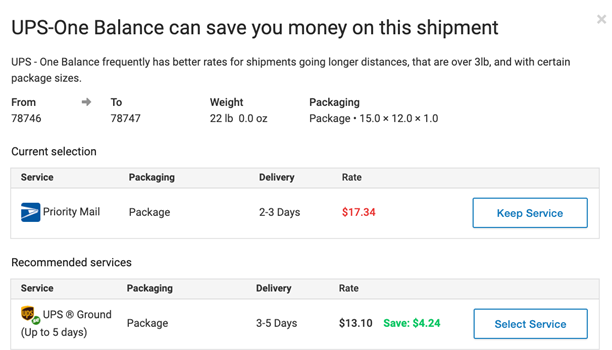 Select 'Don't ask me again' if you do not want to see the Recommended service options.