What does the confirmation email look like that gets sent to my customers?
Every shipment you process with ShippingEasy will generate a confirmation email to your customer giving them shipping and order information. For USPS shipments, ShippingEasy can also send a delivery confirmation email to you and your customers.
Below are more details of the shipment and delivery confirmation emails and examples of ShippingEasy's default email templates.
In a shipment confirmation email, your customer will have easy access to their tracking number so they can check on their shipment's status at any time. All of your company information will appear on the email - including your logo - just as you've entered it in your ShippingEasy account settings.
ShippingEasy also offers the options to customize your confirmation emails and assign them along with custom messages to specific stores in your store settings.
Here is an example of the default shipment confirmation email sent to your customers: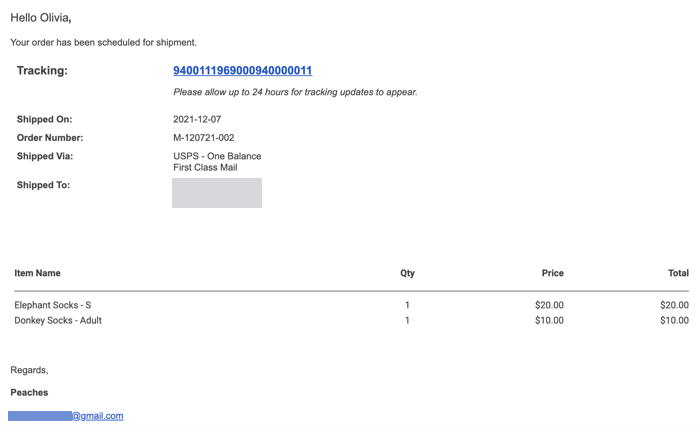 Delivery confirmation emails can be configured to automatically notify you and your customers that their order has been delivered. The email provides easy access for the customer to the shipment details and gives them a heads-up to check their mailbox. You also retain evidence that the package was delivered.
Like shipment confirmation emails, delivery confirmation emails can be customized.
Here is an example of the default Delivery Confirmation email sent to your customers: