How can I ship vape-related products?
The USPS, FedEx, and UPS have all announced they will end shipping for electronic vaping devices and the related component parts to homes in the last months of 2021. The vape shipping bans go into effect on the follow dates for each carrier:
FedEx: March 1st, 2021

UPS: April 5th, 2021

USPS: April 26th, 2021

These limitations are not only in place for purely USPS services, but also hybrid services such as Mail Innovations or SurePost that use the USPS for last-mile delivery.
This restriction is part of the COVID Stimulus bill (see page 5,136) that recently added these substances and devices to the PACT Act of 2009.
For more information on the FedEx policy, read FedEx's 2021 Service Guide.
ShippingEasy realizes these new policies will have a huge impact on businesses that ship vape devices and related products. We are actively working to find different options for you and will provide updates when we have a solution.
We are currently collecting information on our affected merchants so we can contact them directly with any updates regarding this situation. If you'd like our team to contact you personally, please send an email to our support team with the following details: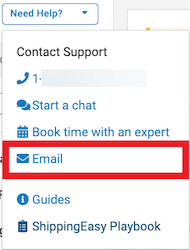 Company name,

Contact name,

Contact email,

Contact phone number,

Company address with postal code.
Our support team will forward your information to the team that is working on this problem, and this team will contact you when we have more information to provide.