Filtering your Campaigns helps you to view and group Campaigns by specific criteria. Campaigns can be filtered by status and created date.
Here are a few ways that you might use Campaign filters:
View all Campaigns that have been Scheduled, but not yet sent.

Find Campaigns that need to be scrutinized because they have been flagged as spam by many recipients.

Review Automated Campaigns that have been Paused to determine if they're ready to resume again.

Clean up the queue by reviewing all the Drafts and decide if they should be sent or deleted.
To the left of the page, there is a menu to help you filter and find specific campaigns.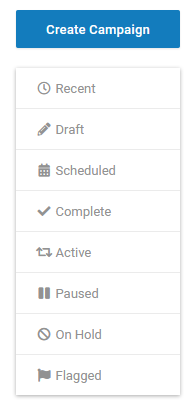 | Filter | Description |
| --- | --- |
| Recent | Emails for the campaign are being sent. This process can take a while, depending on the number of recipients. |
| Draft | The campaign has been created, but not yet scheduled to be sent. |
| Schedule | The campaign has been scheduled but no emails have been sent yet. |
| Completed | All emails for the campaign have been sent. |
| Active | The Automated Campaign is "on" and being dripped to qualifying customers. |
| Paused | The Automated Campaign has been set up but is not being actively sent at the moment. |
| On Hold | The campaign could not be sent or scheduled to be sent because your ShippingEasy account did not have an adequate number of email credits. |
| Flagged | Sending of campaign emails was stopped because of a high number of spam reports by the recipients of the emails that were sent. |
On the right side of the page, above the campaign lists, expand the "Sort by: Creation Date" dropdown to filter campaigns by an additional set of values.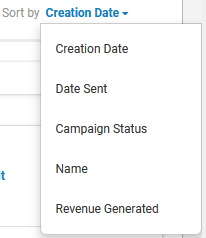 | Filter | Description |
| --- | --- |
| Creation Date | Sort campaigns by the creation date, beginning with the most recent. |
| Date Sent | Sort campaigns by the date sent, beginning with the most recent. |
| Campaign Status | Sort campaigns by status. Ordering appears as follows: Pause, Active, Complete, Draft. |
| Name | Sort campaign names to appear alphabetically. |
| Revenue Generated | Sort by greatest to least revenue generated. |