Contact Profile | Overview
ShippingEasy's Contact Profile page will show you at-a-glance the purchase and marketing activity of each customer. On this page, you can also make updates to the contact information, add or remove notes and tags, or reach out to them directly with a message.
To access the Contact Profile pages, go to the CONTACTS page from the left navigation bar by clicking MARKETING > CONTACTS:

Click the name of a Contact:

Contact Profile Page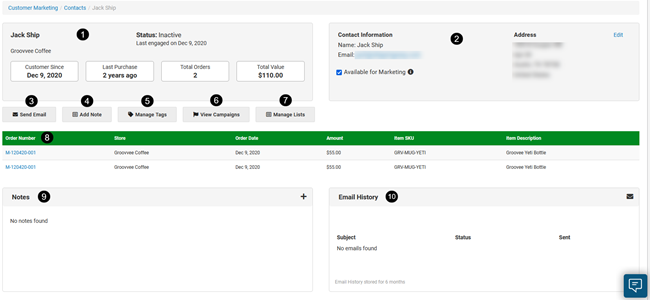 Section

Description

1. Contact Profile

Brief overview of customer profile including:

Status as active, repeat or inactive

Date of last engagement

Date of first purchase

Date of most recent purchase

Total number of orders

Total dollar amount of orders

2. Contact Information

Current contact information of customer that can be edited from profile page.

Checkbox indicates if contact may be included in marketing emails. Shows which lists include the contact.

3. Send Email

Directly reach out to a contact with a plain text email.

4. Add Note

Add notes to contact profile by clicking the '+' sign to the right of the box.

5. Manage Tags

Add or remove tags to a specific contacts.

6. View Campaigns

View current and past campaigns which include contact.

7. Manage Lists

Add or remove contact from lists.

8. Order History

View complete purchase history of customer, including shipped and unshipped orders. All line items in an order are shown.

9. Contact Notes

View any notes added to contact profile.

10. Email History

View emails sent to contact, as well as the:

Subject line

Date and type of last engagement with campaign

Open Status

Date sent
Email History Statuses
Email statuses can be viewed on the Contact Profile page, within the "Email History" section.
These values indicate the interaction your Contact had with each email. Only the most recent Status is shown and Status values can change over time as your Contact interacts with each email.

Status

Description

Processing

ShippingEasy is creating the outbound email message and preparing to send it.

Sent

ShippingEasy has sent the email message. It is waiting for confirmation from the recipient's email server.

Delivered

The receiving server accepted the email.

This does not necessarily mean that the message reached the recipient's inbox. Some users and/or email applications may filter the email away from the inbox.

Opened

ShippingEasy inserts a small, transparent image into all emails. When a contact reads an email, their email client loads the tracking image. This registers the open event with ShippingEasy.

Not all email clients load images by default. Microsoft's Outlook, Apple's Mail.app, Mozilla's Thunderbird, and Google's Gmail do not load images. As such, there may be many times where recipients will open a message and it will never show as Opened. This might happen because there is no way to track the event.

Clicked

ShippingEasy replaces the links in your email templates with a custom link. When the link is clicked, it will redirect your customers to the original link from your template. ShippingEasy also records the click event and displays the status of Clicked.

Bounced

The email message was returned to the ShippingEasy server that sent it. Bounced emails are either a permanent or temporary failure to deliver the email, based on conditions with the recipient mail server. Contacts are automatically marked as "Not available for marketing" if ShippingEasy detects that the attempted email delivery bounced.

Dropped

A dropped email occurs when ShippingEasy identifies a message sent to an email address that is already listed on one of our suppression lists: Bounces, Unsubscribes, Spam reports, and Invalid Emails. ShippingEasy does not attempt to send the email.